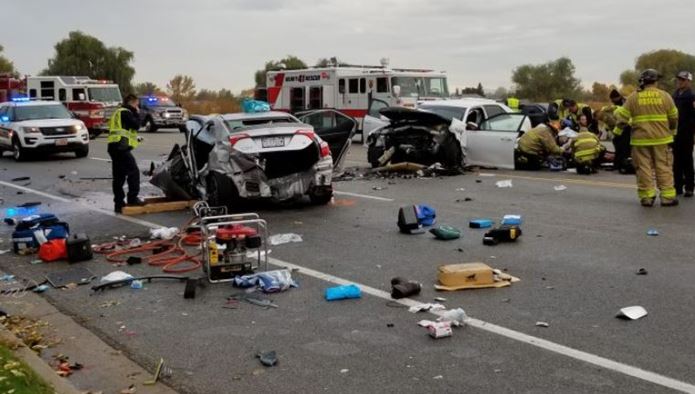 NORTH OGDEN, Utah, May 8, 2019 (Gephardt Daily) — A man has been charged after he allegedly caused the October 2018 death of two children and the injury of their mother in a car collision.
Alexander Vernon Salas, 61, of North Ogden, has been charged on suspicion of three counts of operating a vehicle with measurable controlled substances causing death or serious injury, each a third-degree felony.
A probable cause statement filed in 2nd District Court says that on Oct. 23 at about 8:24 a.m., Salas was driving south on Washington Boulevard at about 1700 north when his vehicle veered from the outside lane, across about 3.5 travel lanes, and collided with a northbound vehicle in the outside lane.
"Witnesses reported seeing no brake lights from Salas' vehicle and there did not appear to be evidence of braking at the scene as there were no skid marks," the statement says. "The speed limit on the section of roadway was 50 miles per hour."
The driver of the impacted vehicle, Sheila Cox, was seriously injured, and sustained multiple fractures to her legs and a fracture to her arm. She lost consciousness as a result of the accident.
Her children, Molly Cox, 11, and Troy Cox, 13, were flown to different area hospitals, but both died as a result of injuries suffered in the crash.
The mother had been driving her children to school. All were wearing seatbelts at the time of the impact.
"A blood draw warrant was obtained for Alexander Salas," the probable cause statement says. "A blood sample was taken on the date of the accident and tested. The results demonstrated that marijuana metabolite and diazepam were in his blood.
"Alexander Salas was interviewed and he admitted to taking a 'deep hit' of marijuana the night prior to the accident. He admitted that he was 'high' for 25 minutes. He stated he remembered stopping at 7-11 in North Ogden and driving south on Washington Blvd. He does not remember the crash and only remembers awakening after the crash to being in great pain."
Salas admitted he did not have a prescription for the diazepam, an anxiety medication, and said he took a pill belonging to his wife. He did not know why his vehicle veered, he told officers.