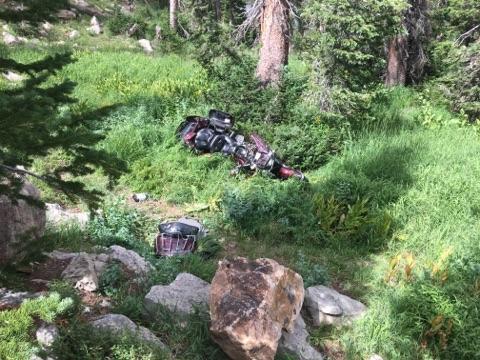 DUCHESNE COUNTY, Utah, Aug. 15, 2017 (Gephardt Daily) — A man fell an estimated 150 feet Saturday after crashing his motorcycle on Mirror Lake Highway. He was flown to a Salt Lake City hospital.
The incident happened near mile post 30 on State Route 150, also known as Mirror Lake Highway, westbound in Duchesne County, the Utah Highway Patrol said in a news release.
The man, who is in his 60s, was driving a Yamaha motorcycle with a group of friends when he lost control as he negotiated a curve, the statement said.
The motorcycle hit the gravel on the shoulder and left the roadway to the right. The man fell off the motorcycle towards the top of the hill, then fell approximately 150 feet. The motorcycle continued to the bottom of the hill, approximately 200 feet.
The man was transported to University of Utah Hospital with non life-threatening injuries.