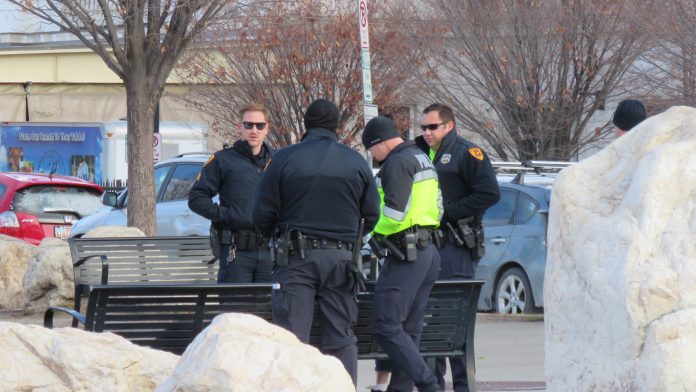 SALT LAKE CITY, Utah, Dec. 17, 2016 (Gephardt Daily) — On Tuesday night, about 70 people attended a vigil for the 97 people who died homeless in Salt Lake City in the past year. On Saturday morning, police found the body of a man whose name will likely be added to next year's grim memorial.
The man was found bundled up but apparently frozen to death on a bench near 345 S. 500 West. Temperatures had dipped to 21 degrees before dawn Saturday morning.
"I was thinking about that very issue as I got outside and felt how cold it was," said Lt. Mike Ross, Salt Lake City Police Department, who was called to the scene.
"I was hoping we didn't have something like this tragedy occur where we have another person who's on the street and freezes to death because of temperatures."
Officers spotted the unidentified man on the bench this morning and pulled over, Ross said.
"We're in an area where a lot of these people are struggling with addiction or other problems, and they end up down here to take part in some of the services — the shelter, Fourth Street, the medical care — a lot of good services in the area help people out. But unfortunately, on a night like last night when you choose to stay outside, this could happen."
Ross said finding bodies of homeless people is fairly common in the frigid months, but that doesn't make it any easier to handle.
"It's difficult," he said. "I think a lot of people look at police officers as being uncaring, unfeeling, but we're in this job because we care about people and want to do the right thing. So when you see something like this, you now, it bothers you, because you know there's places he could have went last night and stayed warm. The shelter had beds last night."
Salt Lake City's Mayor Jackie Biskupski on Tuesday announced the building locations of four new homeless centers, which will replace current center The Road Home, which has 1,100 beds. The new centers will have a maximum of 150 beds each, for a total of 600 or fewer.
The goal, Biskupski said, is to get clients help to quickly get them out of the system and into affordable housing and jobs. Proposed center No. 1, to be in the Sugar House area, has drawn significant anger and backlash due to its location in a residential neighborhood.
The project has not yet been approved by Salt Lake's City Council.
Ross said people looking for a way to help the homeless population can volunteer or donate clothing or money to service organizations.
"The most important thing they can do is support the services for these people, The Road Home, Fourth Street, all of these places that provides beds for them, shelter for them, help them out," Ross said.
"Give them clothing and they'll get it to the people. What I see a lot of time is people handing out money on the street, and a lot of times that doesn't go, perhaps, to the right things the people need.
"A lot of these people like I say are people facing that monster of addiction, and so that money goes right back into that. So helping out the services providers, I think, is the most important thing anyone can do."
Ross said he and his family have volunteered, and served meals.
"They're going to start their big drive where you can bring down socks and other items people need to stay warm," Ross said. "Don't forget about them."