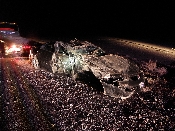 Man in Critical Condition When He Rolled His Car After Hitting a Parked Semi Truck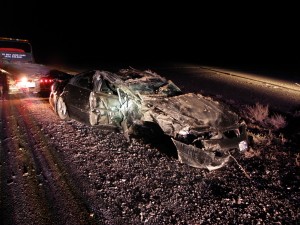 TOOLE, UTAH – May 24, 2015 (Gephardt Daily) — On May 22 at approximately 10:30 p.m. there was a 2003 Pontiac Bonneville which struck a parked semi while driving westbound on I-80 near MM-29.
The driver of the Pontiac Bonneville was unrestrained and ejected as the vehicle rolled. The semi truck was on the right shoulder and out of the way of traffic. He was waiting for a maintenance vehicle, it also had its triangles out.
The sedan impacted the rear trailer, at the rear axles in a side swipe manner. The vehicle continued off the road and to the right, rolling several times and ejecting one 45-year-old male.
The driver of the sedan was flown to a hospital in the Salt Lake area in serious condition, but has since upgraded to stable condition. The driver of the semi was in the sleeper berth and was uninjured.
The Utah Highway Patrol is still investigating the cause of the accident and trying to figure out whether durgs or alcohol contributed to the crash.