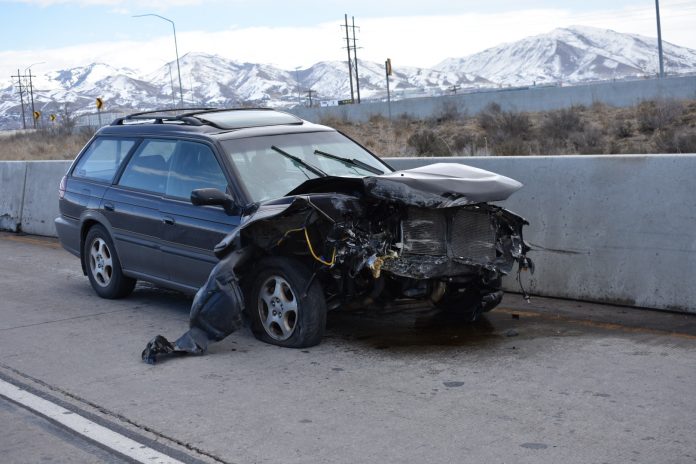 SALT LAKE CITY, Feb. 4, 2017 (Gephardt Daily) — One man was in custody and another was being sought Saturday morning after the two reportedly attempted an armed robbery of a 7-Eleven in Salt Lake City.
The incident happened at about 6:30 a.m. Saturday at the 7-Eleven at 111 West and 800 South.
"The male went in with a rifle, and pointed it at the clerk and demanded cash," said Lt. Mike Ross, Salt Lake City Police Department, who later added that there was another suspect besides the one captured.
"The clerk simply ran from the man, and the man fled from the store," Ross told Gephardt Daily. "We did a little more investigation, and the vehicle he came in was stolen from a home about 15 minutes before the robbery."
An officer spotted the vehicle, and a short pursuit began, Ross said.
"The car tried to go southbound here, to make this curve — the southbound collective for I-15 — and the car was just going too fast and clipped the retaining wall here."
The man did not appear to be seriously hurt in the crash, Ross said, but he would be transported to an area hospital to be checked out before being taken in for questioning.
"We think he may have been involved in more than just the one robbery this morning, so we'll find out," Ross said. "We're looking for one other suspect, a 25-year-old male with a black and gray hooded sweatshirt that went into the store with him. He had a partner this morning, so we're still checking around for him."