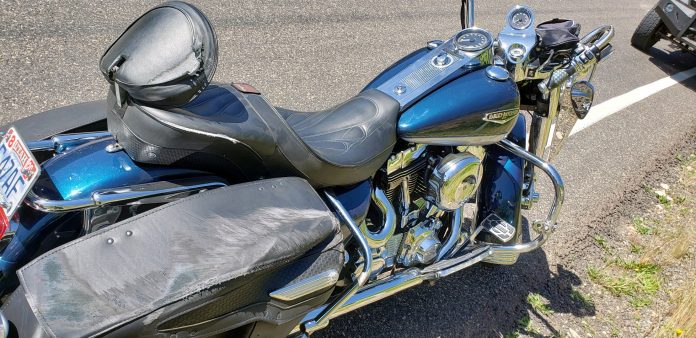 SUMMIT COUNTY, Utah, Aug. 25, 2019 (Gephardt Daily) — A man is in extremely critical condition after a dog ran out in front of his motorcycle on State Route 35 in Summit County on Sunday morning.
A group of motorcycles was traveling from Woodland to Hanna on SR-35 at approximately 11:05 a.m., said a news release from the Utah Highway Patrol.
"Near milepost 26, about 10 miles west of Hanna, a sheepherder was working with two dogs to take the sheep to water," the news release said. "The posted speed limit in the area is 50 mph and there is a guardrail on the side of the road."
As the group of motorcycles approached the area, one of the dogs ran under the guardrail and into the roadway in front of one of the riders.
"The rider braked hard and skidded a significant distance before laying the bike down," the news release said. "He was not wearing a helmet and suffered severe head trauma."
The man was flown to a hospital in Salt Lake County in extremely critical condition.
"Even though protective equipment, including a helmet, is not required for motorcycle riders over 21, using such equipment can provide significant protection and substantially reduce injuries when the rider is involved in a crash," the news release said. "UHP would encourage all motorcycle riders to use proper protective gear whenever riding."
Gephardt Daily will have more on this developing story as information is made available.