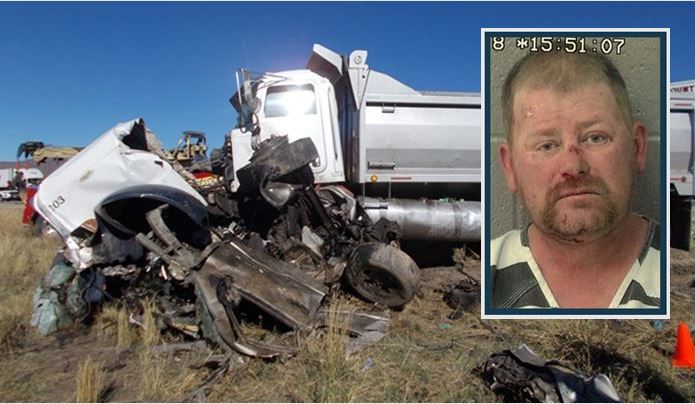 HEBER CITY, Utah, May 30, 2019 (Gephardt Daily) — Jamie Don McKenzie, found guilty after a crash in October 2018 that killed six people, learned his sentence on Wednesday.
McKenzie, 42, will serve three consecutive sentences of one to 15 years in jail. He will spend three to 45 years in prison.
McKenzie was found guilty of three counts of automobile homicide, negligence — DUI, a second-degree felony.
As part of his plea deal, the following original charges were dismissed with prejudice: three additional counts of automobile homicide, negligence — DUI, a second-degree felony; and two counts of driving under the influence of alcohol, a three-degree felony.
On Oct. 19, 2018, McKenzie, driving a 75,000-pound dump truck, crossed the median of State Route 40 near Jordanelle Reservoir, into oncoming traffic, and broadsided a 2002 Dodge pickup, ejecting three men and crushing three other men inside the smaller vehicle.
In addition, a mother and daughter in a Jeep were seriously injured when they swerved to avoid the accident, and the Jeep landed on its roof.
Arriving officers found McKenzie still inside his truck, and had him transported to Heber Valley Hospital for injuries sustained in the crash. He was interviewed by law enforcement officers, who noted McKenzie smelled of alcohol.
After a warrant was issued, a sample of McKenzie's blood was taken to his blood-alcohol level, and he was taken into police custody after his hospital release.
Back at the crash scene, officers found two open containers — one of beer and one of liquor —  inside the dump truck.
According to court records, McKenzie was previously cited for open container/drinking alcohol or impaired driving in 2013, three times in 1998, and in July of 2018.