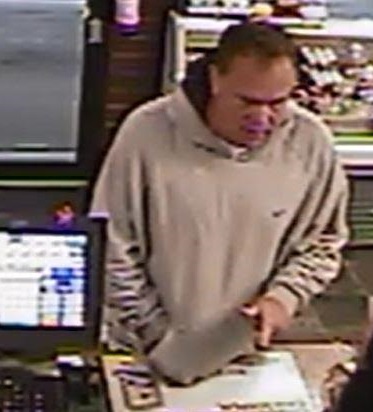 MIDVALE, UTAH – October 14, 2015 (Gephardt Daily) – Unified Police detectives are hoping for public assistance in recognizing a man who robbed a gas station in Midvale in early October.
According to Unified Police Lt. Lex Bell, a man entered the Cardwell gas station located at 8137 South State St. in Midvale on October 2 and demanded money from the clerk.
No weapon was actually shown, however the suspect imitated that he had one in the pocket of his sweatshirt during the robbery. The clerk gave the suspect an undisclosed amount of cash before the suspect ran from the store in an unknown direction.
Officers immediately searched the area, but were unable to locate the suspect.
The suspect is described as a Caucasian male in his mid 40's, 5′ 8″ tall with a medium build. He was wearing a grey hoodie and blue and white basketball shorts.
No one was injured during the robbery.