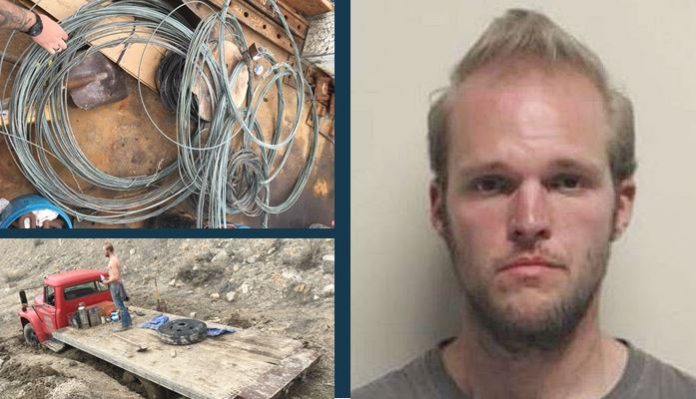 SPANISH FORK CANYON, Utah, April 2, 2019 (Gephardt Daily) — A Springville man was booked into jail after Utah County Sheriff deputies say they caught him with stolen copper wire from the Union Pacific Railroad.
Travis Klett, 32, was booked on suspicion of theft with a previous conviction, a third-degree felony; criminal mischief, a class B misdemeanor; and criminal trespass, a class B misdemeanor.
A statement from the Utah County Sheriff's Office says that deputies responded to Spanish Fork Canyon, along U.S. 6, near mile marker 204, on March 26.
"Deputies spoke to UPRR (Union Pacific) employees who said when they arrived in that area they discovered that a lock on a gate had been cut and they found someone with a large flatbed truck about 50 yards from the railroad tracks.
"These employees reported that they found rolls of copper wire stacked on the bed of this flatbed truck. They found a man with the truck whom they identified as the same man, with the same flatbed truck, they saw in the same area several months earlier in 2018."
The flatbed was registered to Klett, the statement says. Theft of UPRR property has been a problem for years, the statement reports.
"The UPRR employees told deputies the wire had been strung along poles adjacent to the tracks in that area. The several hundred feet of wire was valued at around $500. The flatbed truck was badly stuck in mud and the suspect, who is the owner of the truck, was trying to get it out.
Klett said he didn't cut down the wire.
"He denied cutting the wire down, and said he was only in the area as part of a non-profit organization cleaning up the area," the statement says.
"He did, however, tell deputies he intended to sell the copper wire for cash."
Klett has an extensive criminal history, with charges and convictions for theft, burglaries and drug offenses, the statement says. His bail has been set at $5,000 cash or bond.