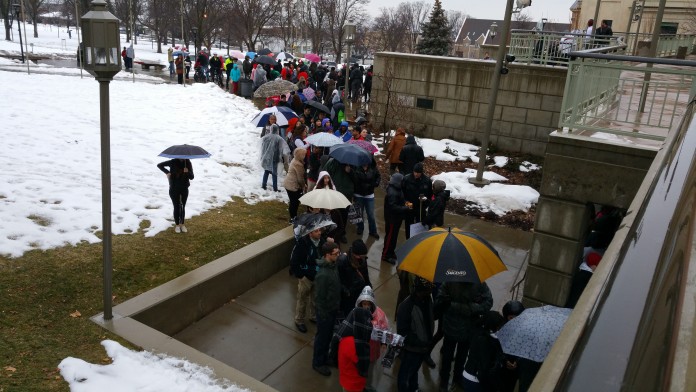 SALT LAKE CITY, Utah, Jan. 18, 2016 (Gephardt Daily) — Salt Lake City Mayor Jackie Biskupski joined dozens of marchers in honor of Martin Luther King Jr. Day Monday.
The Office for Equality and Diversity at the University of Utah staged the rally and march, which went from East High School to Kingsbury Hall Monday afternoon.
Biskupski had a full day of service Monday; accompanied by family members, she kicked off the day with a morning volunteer shift at the Utah Food Bank. Biskupski then attended NAACP's annual Dr. Martin Luther King Jr. Memorial Luncheon, and finished the day with the U of U rally and march.
Beatrix Sieger brought two 5-year-old children to the event.
"We did experience some rain, but they were excited to come," she said. "We heard some speakers and singers over at East High, then we came out here in the rain and marched on over and gathered with all these people.
"It was worth it. It's something we like to do every year, it's important to us and it's important to teach the kids what Martin Luther King Jr. Day means, and have them involved in something to make it real."
Reginald Judson also brought his family to the march.
"This walk was very sentimental to me considering that I have actually been to Selma and lived in Montgomery myself, actually visited Martin Luther King's house and saw his monuments and everything. It's a very good experience for me and for my children to actually see this. It's good to share this with every denomination."
The Office for Equality and Diversity will be holding a MLK Celebration from Monday through Saturday, with the theme "Activism: Now It's Our Turn." For more information visit here.