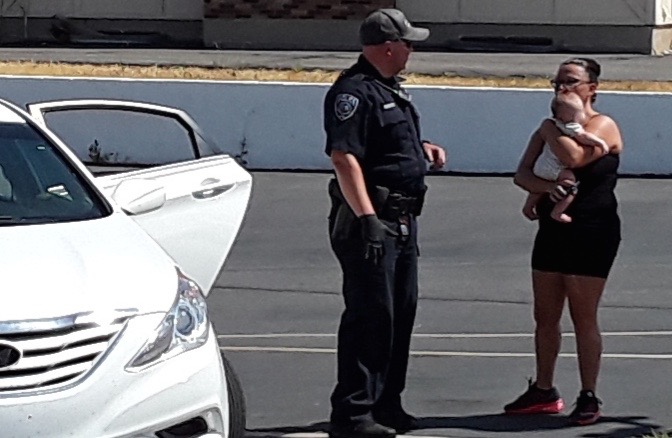 MIDVALE, Utah, July 22, 2018 (Gephardt Daily) — A suspect is at large after stealing then abandoning a car with two children in it in Midvale Sunday afternoon.
The theft occurred from the parking lot of Harts Gas Station at 335 W. 7200 South at approximately 3 p.m., Unified Police Department Sgt. Melody Gray told Gephardt Daily.
"The parents had gone inside and left their 13-year-old and a four-month-old infant inside that vehicle," Gray said. "Our suspect walked across the street, got into the vehicle, and drove away. The 13-year-old, who was located in the backseat, was yelling at him, telling him to let them go and he needed to stop. She actually started punching the suspect."
The suspect then pulled into a parking lot of another business about a mile away at 6885 S. State Street. He then got out of the vehicle and was last seen heading southwest on foot, Gray said.
The 13-year-old girl, who has been identified as Josslyn Millan, told Gephardt Daily: "I was just sitting in the parking lot of the gas station, my mom asked me to feed my baby sister because she was hungry, and the guy just got in the car and started driving away. As he was like halfway out in the street I rolled down the window and I stuck my head out of the window and I started screaming for help then I called the cops. I asked him to take me back to my mom, my mom needs my baby sister, then he just looked me in the eyes and I started hitting him in the side of the head and the face, and he said 'Sorry, I won't hurt you' and 'Sorry, I'll take you back,' then he pulled in here and left."
She said that she was afraid the man would hurt her and the baby. She added that she thought the suspect may not have known that she and the infant were in the car, as they were both in the backseat.
A containment area was set up to find the suspect.
Gray said as well as theft of the vehicle, he may be facing kidnapping charges.
She said the keys were left in the vehicle.
Police have video of the man from the gas station and will be releasing it soon.
Anyone who has information on the suspect is asked to call the UPD on 801-743-7000.
Gephardt Daily will have more on this developing story as information is made available.