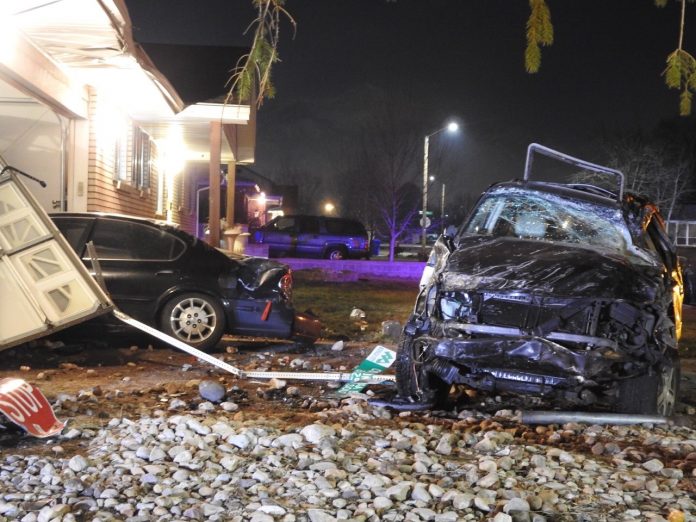 MIDVALE, Utah, Dec. 28, 2017 (Gephardt Daily) — Police have one juvenile suspect in custody and are looking for a second after the pair reportedly crashed two cars into the garage of a Midvale home Wednesday night.
The two boys were driving north on Monroe Street in separate cars when both veered off the road and hit the garage of a residence in the area of 140 W. Columbia Drive, at approximately 10:50 p.m., according to officials from the Unified Police Department.
"Speed was definitely a factor," said Unified Police Lt. Ken Malone. "Whether they were racing, I don't know at this point.
"The drivers of both vehicles fled on foot. We were able to locate one of them, and they're in custody right now. There's no indication of DUI right now, and the vehicles are not stolen. They are juveniles, and that appears to be the reason they ran."
Damage included knocking out a corner of the garage, which made it unsafe to enter, Malone said. Cars inside the garage were damaged. Also hit were a fire hydrant, a stop sign and a basketball hoop.
"There's no injuries to the home owners," Malone said. "I'm sure they were frightened. One driver has minor cuts and bruises, but as far as the other one's, there are no known injuries. They were able to leave the area."
In addition, the cars of both suspects appeared to be totaled.
Malone said at a minimum, the suspects are likely to be charged with reckless driving and leaving the scene of an accident.