Mini's Cupcakes Are Still Sweet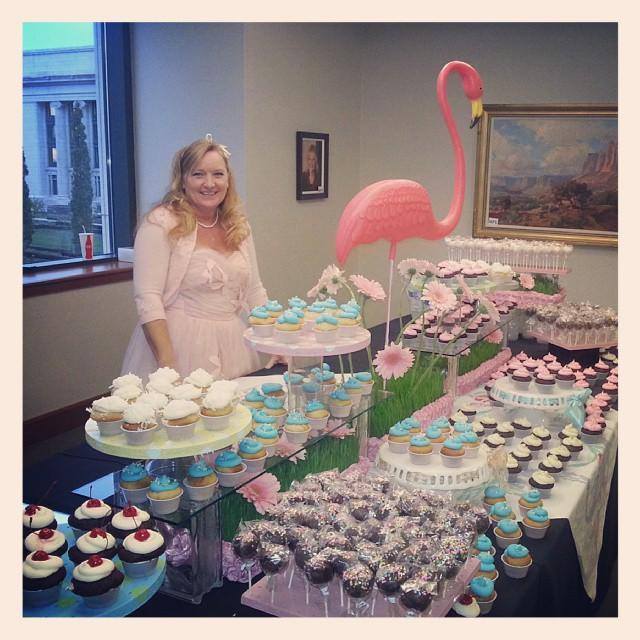 Mini's Cupcakes owner Leslie Fiet may just be as sweet as her cupcakes.
For Fiet, one good deed paid off in a way she never expected. 
Fiet, who opened Mini's Cupcakes in 2007, was inside her bakery the morning of February 4th. As she was preparing for Valentines Day, an Amber Alert flashed across her phone. The Amber Alert described the stolen vehicle containing two-year-old Bella Martinez as a black SUV. She instantly remembered seeing a black SUV parked outside her shop.
As she verified that the license plate on the the car was an exact match to the one issued on the alert, she noticed inside the SUV was the missing child. Not wasting another second to call 911, Fiet ran outside to grab the little girl from the car. She took her inside and locked up the store. Less than an hour later, Bella was reunited with her parents.
The aftermath of that event quickly turned into an outpouring of love and support for Fiet, who said she never expected what happened to her the next day. TMore customers than than Fiet was prepared to handle were waiting toward cupcakes, and many of her friends volunteered to take the day off from their own jobs to help her manage the crowds.
Being a good Samaritan has turned out to be quite the blessing. Once a single mother, and low income, Fiet has worked hard to turn things around for her and her family.
She went back to school and obtained her teaching degree. But after teaching high school and then middle school she started to feel more like a babysitter than a teacher and decided it really wasn't for her.
She decided to go back to school once again, this time to earn a master's degree in technical writing. But she eventually found that the grueling and unpleasant corporate setting was also not her cup of tea.
[one_fourth]
[/one_fourth][three_fourth_last]
In the corporate world she remembers being told  "You will never reach a goal if you don't do something about it everyday." It's those words she uses to remind her to never stop trying to reach her goals.
It was in a discussion with her husband that she decided she wanted to open a cupcake bakery. Fiet remembers that he thought it was a funny idea, since she had never done any professional baking of any kind. But she took the attitude of "what's the worst that could happen?" and in 2007 she opened Utah's first cupcake bakery and has been open ever since. "Most people don't do things because they let fear guide them," she said.
Since rescuing Bella from the car that day, Mini's Cupcakes has seen nearly double the business it used to have. Having a location close to downtown, she has seen an increase in support from businesses that now want to patronize her bakery. 
She is humbled by the outpouring of those that simply want to give back. And Fiet just wants to turn around and give that same love and support back to Bella and her family.  She is asking for anyone who would like to send a birthday card to Bella to please send it to the shop at 14 E. 800 South, Salt Lake City, UT 84111. 
It isn't just the cupcakes she makes bright and wonderful, her kind heart and good deeds makes everyone else want to be just a little more sweet.