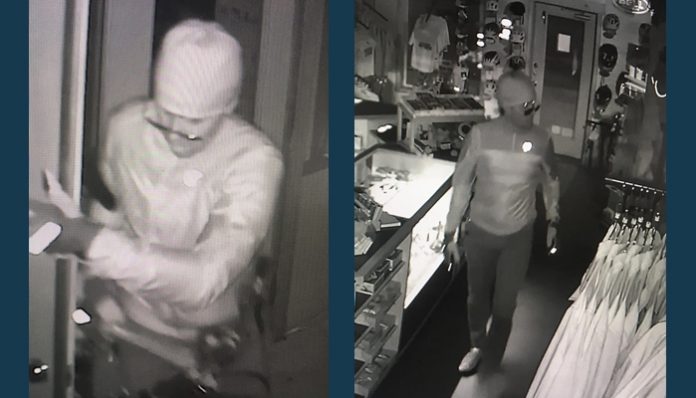 MOAB, Utah, April 11, 2019 (Gephardt Daily) — Moab City police are searching for a suspect after a bike shop theft Tuesday evening.
"We're looking for the person seen in the two attached photos," said a Facebook post from the department. "He committed a burglary at Poison Spider Bicycles on the evening of April 9."
The bike shop is located at 497 N. Main St. in Moab.
The suspect has been described as approximately between 6 feet 1 inch and 6 feet 3 inches tall, with longish hair in the back, a narrow face, aviator sunglasses, a Pearl Izumi jacket, long-fingered reflective gloves, and "bowlegged with duck-like footing and an odd walking gait."
The post concludes: "We encourage you to share this post — the more eyes we can get on it, the more likely we are to identify the burglar. Thanks, everyone!"
Anyone who has information about the crime or who recognizes the individual in the photos is asked to contact MCPD at 435-259-8938 or send the department a Facebook message.