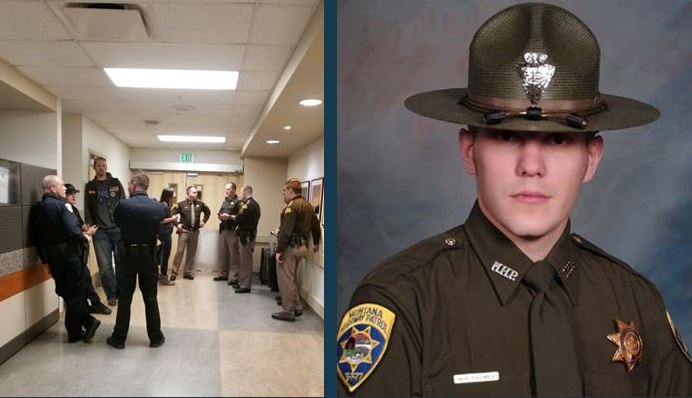 SALT LAKE CITY, Utah, April 2, 3019 (Gephardt Daily) — Nearly three weeks after being shot multiple times by a suspect and transported to the University of Utah Hospital for treatment, a Montana Highway Patrol trooper has regained consciousness.
Trooper Wade Palmer, 35, was shot three times — in the head, neck and face — on March 15 near Evaro, Montana.
"He has improved from critical to stable and he has been moved from the University of Utah Hospital's Neurological Critical Care Unit to the Neuro Acute Care Unit," says a statement by the Montana Highway Patrol, released Tuesday.
"All of his interactions have been nonverbal, but he has shown recognition of certain people and commands. He is scheduled for reconstructive surgery for jaw injuries on Thursday."
Colonel Tom Butler, chief of the Montana Highway Patrol, said any positive signs of recovery are welcome.
"We are immensely grateful for Trooper Palmer's progress," Butler said in the prepared statement.
"We remain hopeful as we see Wade continue to heal and make positive strides, however, we are fully aware that he has a long journey ahead of him. We will be with him and his family every step of the way and we thank the public for their continued support and prayers."
Background
Palmer, 35, was investigating the vehicle of a man wanted in connection with the shooting of three people on March 14 at a bar on Route 93 outside Missoula, Montana. One person was killed in the shooting and two others were critically wounded.
Moments after discovering the suspect's vehicle, Palmer was shot. When backup arrived, they found Palmer unconscious and bleeding, and the suspect's vehicle was gone.
Trooper Alex Hiday, who was next on the scene after Palmer was shot, found his fellow officer still seat-belted in the patrol car, according to a statement by Montana Highway Patrol.
Palmer originally was treated at St. Patrick Hospital in Missoula, but was soon  transferred to the University of Utah Hospital.
A GoFundMe account for Palmer, a married father of two young children, can be viewed by clicking here.
The suspected shooter, Johnathan Bertsch, 29, was taken into police custody hours after Palmer was found.
He was charged with murder and attempted murder in connection with both incidents in Montana.
On March 28, Bertsch entered a not-guilty plea in connection with the shootings and murder.