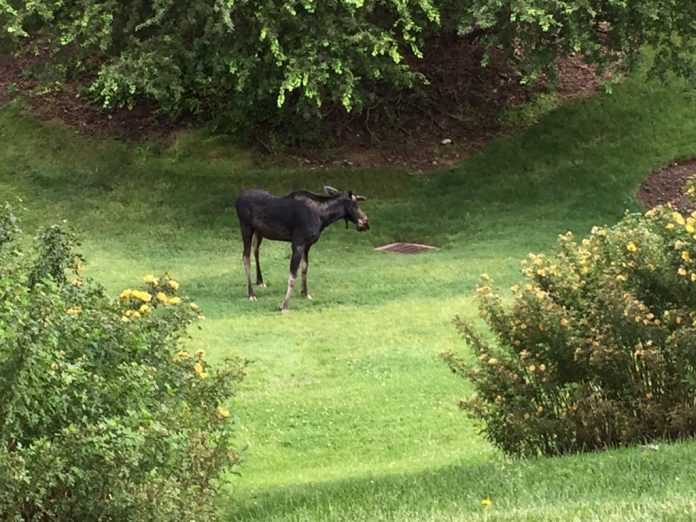 SALT LAKE CITY, Utah, June 10, 2016 (Gephardt Daily) — A distinguished visitor caused a bit of a stir at the University of Utah Friday morning. It's a young moose which was wandering around the upper campus.
The University tweeted at approximately 9:45 a.m. that people in the vicinity should steer clear of the 18-month-old bull, but it was expected he would head up to the foothills.
The university posted pictures at approximately 10 a.m., saying the moose was hanging out outside the Chapel Glen dormitory.
The Utah Division of Wildlife Resources assisted in the re-location of the moose to Utah County.
The website WildAwareUtah.org has the following tips for people that encounter a moose:
On a trail, give the moose a lot of space and watch its behavior.
Back off if a moose exhibits any signs of aggression, such as the hair standing up on its neck, snout licking, or ears back.
Stay calm. Do not run away. Talk, make your presence known and slowly back off in the direction you came.
If a moose charges you or chases you hide behind something solid, such as a tree.
If a moose knocks you down, curl into a ball, protect your head and lie still until the moose retreats.
The website said anyone who has an encounter with aggressive wildlife should alert the nearest Utah Division of Wildlife Resources office. If the encounter or sighting occurs after hours or on the weekend, people should contact their local police departments or county sheriff's offices, who can contact a conservation officer to handle the situation.