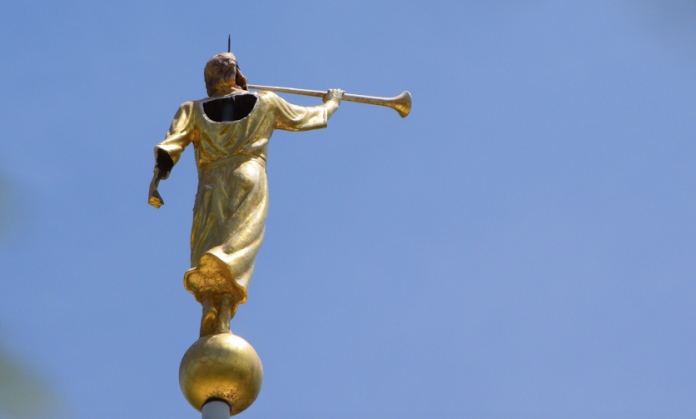 BOUNTIFUL, Utah, May 23, 2016 (Gephardt Daily) — The angel Moroni statue atop the Bountiful Temple of the Church of Jesus Christ of Latter-day Saints took a serious hit this weekend.
A lightning strike blasted off part of the gilded statue's head, and blew a hole in its upper back.
Eric Hawkins, spokesman for The Church of Jesus Christ of Latter-day Saints, confirmed the damage was caused by a lightning strike.
Moroni statues, most of which are made of gilded fiberglass, adorn many LDS temples around the world.
In the LDS faith, Moroni is believed to have been the last person to contribute to "Book of Mormon," and the angel who led church founder Joseph Smith to the golden plates, which members believe he translated into into the scriptural text.
According to a November 2009 article in the Church magazine the New Era, modern Moroni statues are mounted on copper rods, which hold the figures in place and also serve as lightning rods.
That would explain the hits Moroni statues have taken over the years. One of the most famous was in 2009, when lightning struck the Oquirrh Mountain Utah Temple 10 days before its dedication.