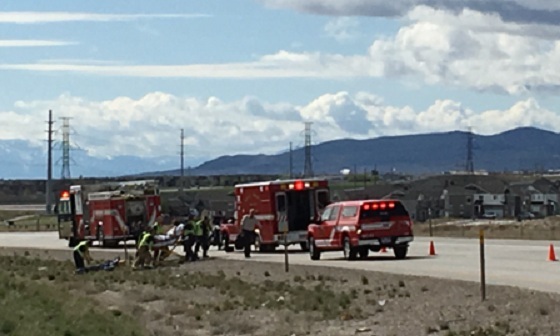 WEST JORDAN, Utah, April 10, 2016 (Gephardt Daily) — A motorcyclist suffered serious injuries Sunday morning when he hit an antelope on Mountain View Corridor in West Jordan.
Officer Nelson Vargas of the West Jordan Police said the 20-year-old man was traveling south just past the 7800 South intersection at approximately 10:30 a.m. when an antelope jumped in front of him.
"The rider collided with the young antelope, and both the rider and his motorcycle landed pretty far from where the initial accident occurred," Vargas said.
"The rider suffered a possible broken collarbone, some road rash and other minor injuries, and was taken by ambulance to the hospital."
Vargas said it is not common for antelope to be down in the area, but officers do see a lot of deer.
"Mountain View Corridor already has a lot of speeding motorists," Vargas said. "We just want others to remember there is wildlife out here, and to slow down in case one of them gets in the way."
The antelope did not survive the accident.
Vargas said the rider was wearing a helmet.