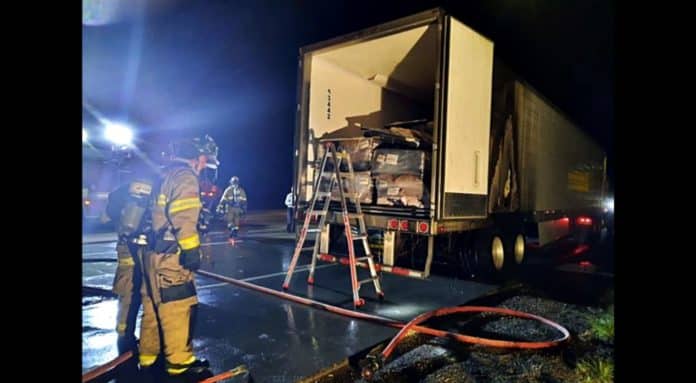 MOUNTAIN GREEN, Utah, May 8, 2021 (Gephardt Daily) — Crews from the Mountain Green Fire Protection District responded to a medical incident Thursday night, and were headed back to headquarters when they came on another incident.
"Busy night on the freeway!," says a Facebook post issued by the department. "Two very serious incidents within minutes of each other.
"We were initially dispatched to a serious medical emergency in a semi, which unfortunately turned into a life-threatening condition. Morgan Fire & EMS A121 and Ogden Paramedic Rescue 5 also responded."
No additional information was shared about the patient's condition or outcome.
"After the patient was transported, Engine and Squad 131 came upon a burning semi in the rest area, tires on fire. Quick action by our firefighters saved the cargo of mail. Fortunately this was not a Hazmat semi trailer."
Mountain Green firefighters conversing with UHP troopers about our "22-second response," troopers came upon the burning semi seconds before Engine131 arrival. All tires were on fire on our arrival, the Mountain Green Fire Protection District statement says.
"Fortunately fire did not extend into the inside of trailer. Just a few minutes more and cargo was checked thoroughly, no damage to the magazines and bulk mail that was being carried."