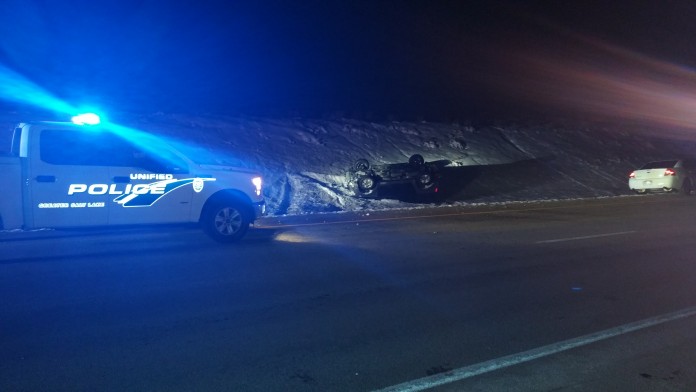 HERRIMAN, Utah , Jan. 26, 2016 (Gephardt Daily) — A man trying to avoid hitting a rabbit crossing Mountain View Corridor caused a single-car accident Tuesday night.
According to Unified Police officer Jason Myers, the accident happened in Herriman on Mountain View Corridor when an SUV traveling in the left lane swerved to avoid a rabbit that ran into the road.
"He is a young driver who swerved for the rabbit," Myers said. "Unfortunately, he still hit the rabbit, but ended up over-correcting and lost control. He went into a ditch, and when he hit the incline of the median his car tipped over."
Neither the driver nor his passenger was injured.
Myers said the speed limit along this area is set for 55 mph because it is a long and dark stretch of the highway.
"There are a lot of animals in the area, usually deer," Myers said. "The rabbits have just started coming out lately, so it is important to slow down when driving this road."
The Corridor was shut down temporarily.