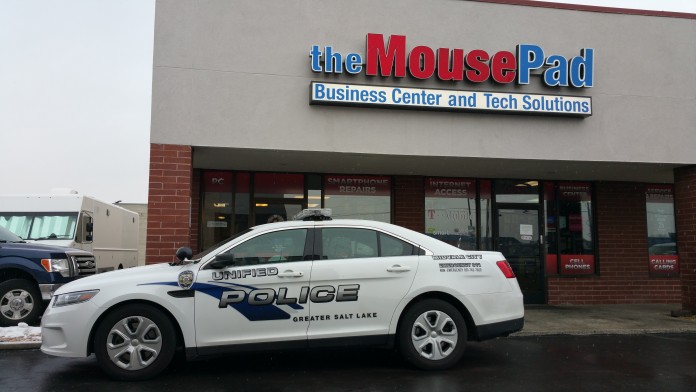 SALT LAKE COUNTY, Utah, Jan. 14, 2016 (Gephardt Daily) — Three Internet cafes were raided and shut down Thursday after a yearlong investigation by police into alleged online gambling.
The Unified Police Department's Midvale Precinct Directed Enforcement Unit served search warrants to three Mouse Pad locations. The locations in question, which call themselves "business and tech solutions centers," are 38 W. 7200 South in Midvale, 1232 S. Redwood Rd. in Salt Lake City and 4090 W. 5415 South #117 in Kearns.
UPD said in a press release: "The investigation began after the department received a multitude of complaints from citizens and other business owners about the illegal activity occurring inside of these businesses. Citizens also complained that the patrons of the Mouse Pad stores were using and selling illegal narcotics in the parking lots and that crime was going up in the area around the stores.
"Midvale Precinct detectives were able to conduct an undercover operation into all three Mouse Pad locations and determine that patrons are able to play games of chance and receive cash payouts for their winnings. Once this was established, UPD worked with the Attorney General's Office and Salt Lake City Police Department to put together today's operation."
Thursday at 10 a.m., simultaneous search warrants were served on the three different locations of the Mouse Pad. Police said several people were detained in each store, including patrons and employees. The patrons were identified and asked to leave. The employees were detained to be interviewed.
Police said the seven employees, two in Midvale, three in Kearns and two in Salt Lake City, were interviewed and released, pending further investigation. No one was booked into jail at this time. Officials said evidence discovered at all three locations needs to be analyzed prior to making the decision of whether to screen charges federally or locally, which is why no one was arrested and booked at this time.
UPD seized a total of 150 computers/gaming machines and approximately $6,000 in cash from all three locations. Midvale City revoked the business license for the Mouse Pad in its city, so that location will remain closed. The status of the other two stores is unknown at this time.
Spokesman for UPD Lt. Lex Bell said: "The business owners complained. We've had citizens complain. Complaints ranged from illegal gambling inside but mainly the clientele coming and going, things going on in the parking lot, stolen vehicles arriving in the parking lot. A couple of months ago we had a stolen vehicle in the parking lot that culminated in one of our offices having his vehicle shot at 12 times. He was shot in the chest but his vest saved him."
Bell said of Thursday's operation: "We just walked into the businesses as calmly as we could. There were no issues, nobody fought back, everything went very smoothly.
"These type of places have been popular these last few years. The message we want to send is this won't be tolerated."
"We want to stay in this complex and continue doing business," said Kim Mangalindan, owner of Xpress Cash Solution. "Ever since they moved in our business went down about 50 percent. Today is a great day. We're extremely excited that tomorrow is a new day."