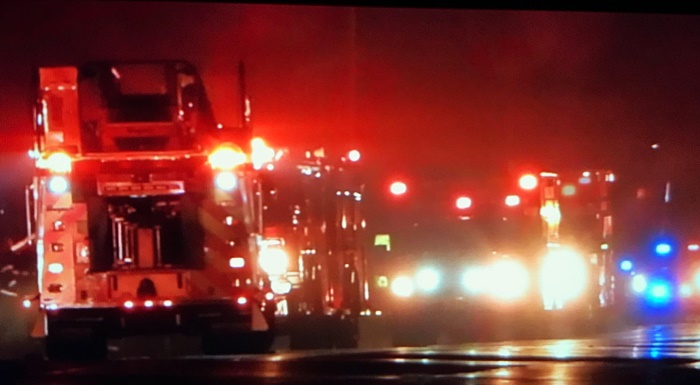 WEST VALLEY CITY, Utah, Oct. 8, 2019 (Gephardt Daily) — Multiple agencies responded to a large structure fire in an industrial area of West Valley City on Monday night.
Battalion Chief Scott Hall, with the West Valley City Fire Department, said reports of a structure fire were received at about 10:15 p.m., and the first arriving crews found heavy smoke and fire coming from the south side of the Advanced Hydraulic Systems building in the area of 3600 West and 3100 South.
It was then found that the structure was fully involved, and "the decision was made to go defensive on the operation," he said.
"We've had multiple units from multiple agencies helping us out tonight. This fire did go to two-alarms. We have units working on both the north and south ends of the structure."
Hall said there were probably about 60 firefighters battling the blaze and "it took a good hour to bring under control."
Crews had to take a defensive approach because, with the metal building being exposed to all the heat and smoke, it wasn't safe to go inside right away.
Not knowing exactly what the building contained, crews also had concerns about hazardous material possibly being inside.
"Luckily, the owner showed up pretty quickly and confirmed that there were no major hazardous materials on site," Hall said. "Just some gas cylinders, but we haven't seen any of those compromised at this time."
The damage to the structure was extensive, he said, adding that fire crews hadn't yet been able to get a really good look inside because of the amount of smoke still coming from the south side of the building.
"The exterior south wall is bowed out. We'll have building inspectors come and inspect the building and look for the structural stability of it," Hall said.
A big concern was that the fire might spread, so crews were stationed strategically to protect other buildings nearby.
Hall said, "The business deals with some types of hydraulics. This is an industrial area, and a lot of these businesses do have multiple hazardous materials in them. When we arrived, that was already on our minds, and seeing a large amount of fire just made us more cautious."
All things considered, their efforts paid off. No one was injured, and there were no fatigue issues.
"It went as well as it possibly could for such a large amount of fire late at night," Hall said.