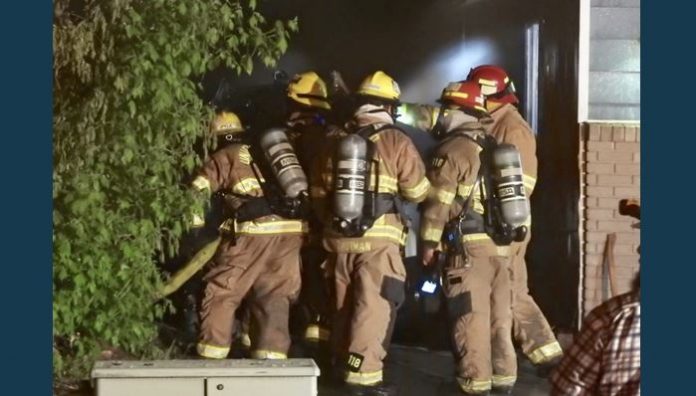 MURRAY, Utah, May 3, 2018 (Gephardt Daily) — Late-night TV viewers who smelled smoke were able to evacuate fellow tenants of a Murray house and summon firefighters.
The call came to dispatch at about 1:30 a.m. Thursday, said Deputy Chief John Harris, Murray City Fire Department. Crews responded to the scene, at 6020 S. Riverbend Drive (865 West).
The tenants who smelled the smoke "walked outside the house trying to figure out where it was coming from, and they saw the back deck was on fire," Harris said.
"They immediately called 911, went back inside, got the rest of the tenants out of the house."
The house was not formally divided into apartments, but had different areas rented to family members and friends, Harris said.
"They tried to put out the fire with a garden hose, but it was too big at the time," he said. "By the time the fire department got here, the fire had extended from the back porch all the way into the upstairs bedrooms."
Officials called a second alarm when the first on scene saw how much fire there was, Harris said. In all, about 20 firefighters fought the flames.
Everyone made it out of the building without injuries. Two cars at a neighbor's house were parked close to the fire, and were heavily damaged, Harris said. The neighbor's exterior wall also was damaged by heat.
Tenants in the house that burned reported that a possible cause of the fire was a woodworking project on the back porch, where a table was being sanded and stained over the course of a few days, Harris said. The final determination of cause would be made by inspectors, he said.
A repair estimate was not immediately available, he said, adding that the damage was "significant."
No alarm went off in the residence, Harris said, adding that tenants were lucky someone was awake to smell the smoke.