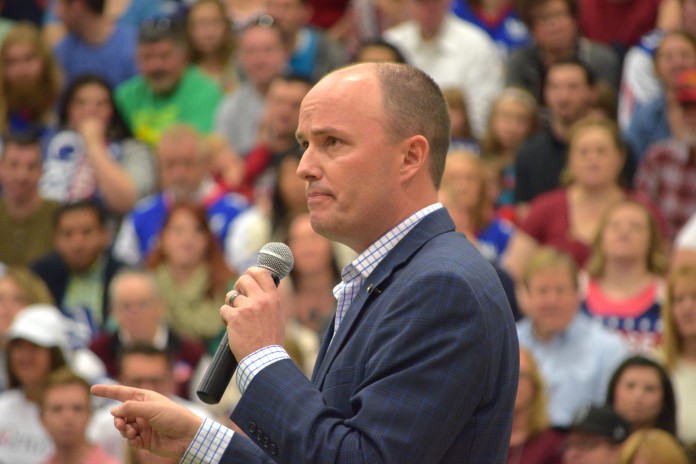 SALT LAKE CITY, Utah, June 17, 2016 (Gephardt Daily) ─ Utah Lt. Governor Spencer Cox's remarks Monday, at a vigil to honor the victims and survivors of the mass shooting in Orlando, have drawn international praise ─ some of it unexpected.
Cox urged a crowd gathered at Salt Lake's City Hall Monday evening "… to show kindness and understanding for people who are different from us."
He revealed that over the years, his "heart has changed" in its love and respect for those who are members of the lesbian, gay, bisexual and transgender community.
Cox's apologetic words went viral, and by Thursday evening, former Secretary of State and presumptive Democratic presidential nominee Hillary Clinton was weighing in on Twitter:
"Thank you, @SpencerJCox. Despite our differences, if we stand together, hate can never defeat us," Clinton wrote in a tweet that was read, "liked" and retweeted thousands of times overnight.
Former CBS News anchor Dan Rather also heaped praise on Cox:
"Moved by Lt. Gov. @SpencerJCox 's words in the wake of the Orlando shooting," Rather said Wednesday evening via Twitter.
In an interview with National Public Radio's Kelly McEvers earlier this week, Cox said he has been inundated with phone calls, texts, and tweets about his speech at the rally.
"They're saying, 'This is exactly what I was thinking,'" Cox told McEvers. "And so it's one of those really rare moments where I think just by speaking what was in my heart, I was able to maybe give voice to what other people were feeling."
Cox said that sometimes it is best to say what's on your mind regardless of the consequences, in the spirit of bringing people together to resolve their differences.
To listen to Cox's speech, click on the video player below.