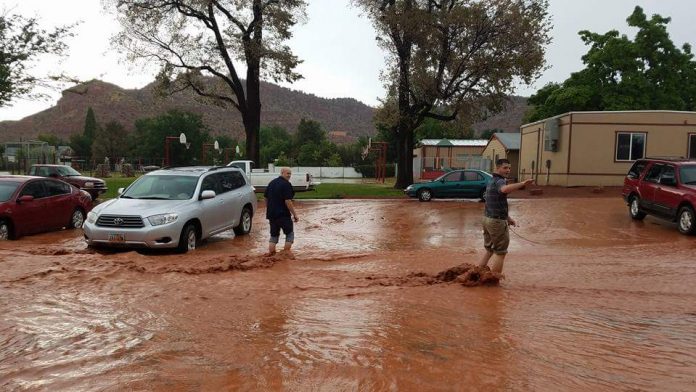 UTAH, Aug. 3, 2016 (Gephardt Daily) – Heavy rains led to significant flooding in parts of southern Utah Wednesday and more wet weather is on the way.
A series of thunderstorm pounded the Kanab area with the sudden runoff leading to widespread street flooding late Wednesday afternoon.
Kane County Sheriff Tracy Glover said sewer systems were simply overwhelmed when water spilled over the top of the city's dyke just north of town.
Several homes were damaged by the rising water, but there we no reports of injuries.
The National Weather Service in Salt Lake City has issued a series of flash flood watches and warnings across much of southern Utah, most of which were expected to remain in effect until midnight.
Areas expected to be impacted include the San Rafael Swell, Glen Canyon Recreation Area, and Utah's Dixie and Zion National Park.
The NWS says areas at higher risk of flash flooding include slot canyons, slick rock areas, normally dry washes and small streams in steep terrain.
The NWS added Wednesday Kanab Creek appears to have peaked at about 2000 cubic feet per second due to the heavy rain. Normal flow is about five cubic feet per second. Cubic feet per second is a measurement of the amount of water moved by the stream flow.