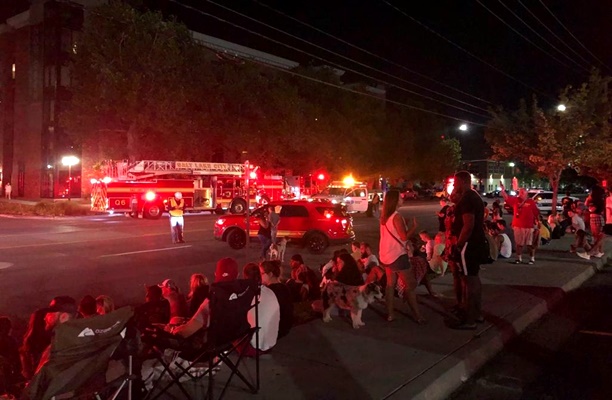 SALT LAKE CITY, Utah, Aug. 2, 2019 (Gephardt Daily) — Firefighters and hazmat crews are at the scene of a natural gas leak in a large apartment complex Friday night in downtown Salt Lake City.
The call reporting the gas leak at the 4th West apartments, 255 N. 400 West, came in a little before 9:30 p.m., and crews began evacuation of the structure just a few minutes later.
The order to close the area to vehicle traffic was given just after that.
Firefighters were taking no chances as they arrived on scene and started the evacuation process. They could be heard on the scanner, cautioning that "any static will create a spark," emphasizing the need to proceed carefully as the percentage of natural gas in the air was being monitored and residents headed outside to safety.
The occupant of one of the units apparently refused to leave the building, so the police were requested to explain to the resident that evacuation is not optional.
A total of 496 units were evacuated, and the occupants are being temporarily sheltered at West High School, which is directly west of the complex.
Salt Lake City Fire Department tweeted at about 10:45 p.m., "A systematic clearing of the natural gas is being done which is anticipated to take 1-2 hours." 
The building is being ventilated, and as soon as the gas readings reach a minimum level, the residents will be allowed to return to their apartments.
Gephardt Daily will update this developing story as more information becomes available.