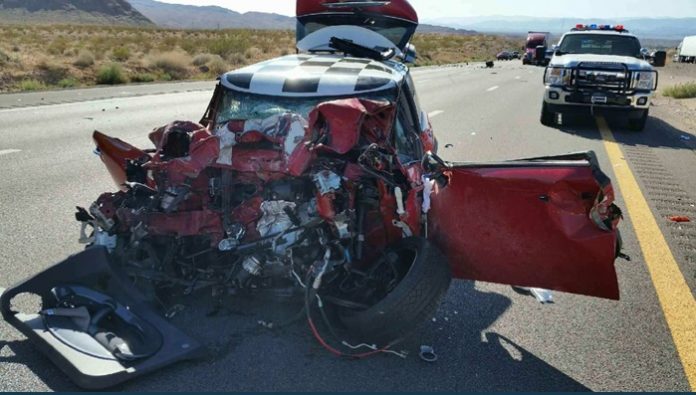 MOAPA, Nevada, Oct. 9, 2017 (Gephardt Daily) — The Nevada Highway Patrol on Sunday was investigating a fatal crash that was suspected to have been caused by road rage.
Later Sunday night, NHP tweeted that four people had been taken into custody in connection with the deadly crash.
The incident occurred on Interstate 15 at mile marker 93 at about 1 p.m. Sunday.
The Las Vegas Review-Journal reported that a silver Jeep and black BMW were southbound on I-15 near Moapa, when the Jeep hit the BMW while trying to pass, crossed into oncoming traffic and hit a Mini Cooper. The driver of the Mini Cooper died at the scene.
According to the Journal-Review, a Nissan Pathfinder also was traveling in the northbound lanes and crashed. It wasn't immediately known if the Nissan was involved in the incident.
The Nissan's driver and a passenger, and the Jeep's driver, were transported by ambulance to an area hospital.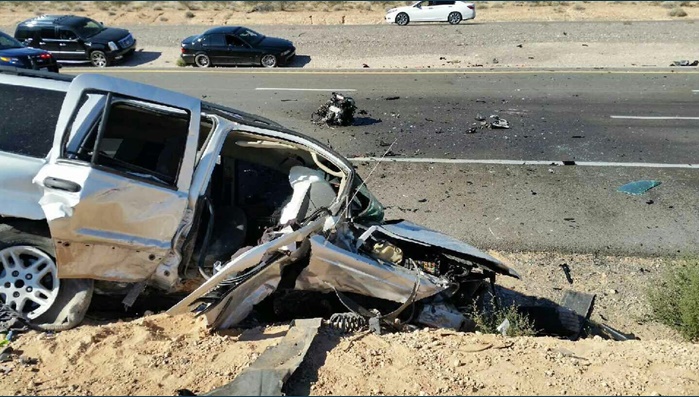 Northbound I-15 was closed for several hours while investigators were on scene, and drivers were advised to avoid the area. One northbound lane was opened later Sunday evening, and by about 10 p.m., tow trucks were clearing the vehicles and debris from the scene. Two northbound lanes were open about an hour later.
Gephardt Daily will update this story as more information becomes available.