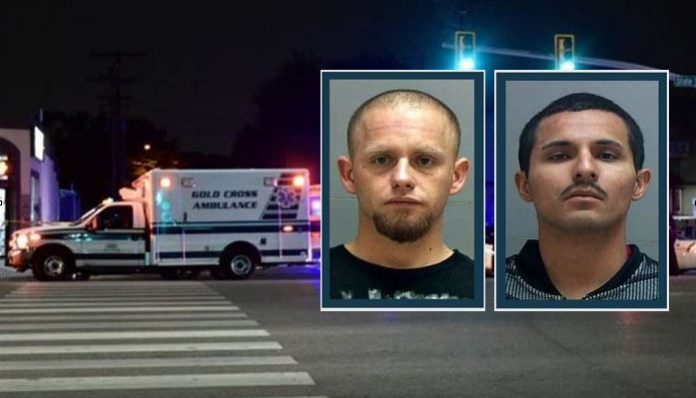 SALT LAKE CITY, Utah, Sept. 7, 2018 (Gephardt Daily) — Murder charges have been filed against two men after the death of a 16-year-old boy last month in Salt Lake City, and charging documents have revealed new details in the moments leading up to the stabbing.
Enrique Deloza and Nicolas Espana, both 28 and Salt Lake City residents, have been formally charged by Salt Lake County District Attorney Sim Gill with the murder of Marcelino Johnson in the early hours of Aug. 27.
According to Deloza's probable cause statements filed Thursday, police were called to the scene, 75 E. Kensington Ave., at 1:12 a.m. on a report of an injured person in the roadway.
They found Johnson gravely injured and bleeding profusely. He was transported to the hospital, where he was pronounced dead, the probable cause statement says.
Police questioned teenagers who had been on the scene with Johnson — a 15-year-old boy, referred to in court papers as C.C., and two 13-year-old girls, identified as T.M and G.G.
C.C. told police that the group of four minors had been walking near 1300 S. State, with the girls a few steps behind him and Johnson. C.C. said that two men, one white and one Hispanic, walked past the group, traveling in the other direction.
"A moment later, the girls ran up to C.C. and Mr. Johnson and stated the two males had attempted to persuade the girls to go with them," the statement says.
"C.C. stated they saw the males again, and Mr. Johnson and the Hispanic male got into a physical altercation. The fight broke up, and C.C., Mr. Johnson, T.M. and G.G. continued walking on State Street."
As the group of four juveniles approached an alley near 75 E. Kensington Ave., the white male emerged from the alley and threw a rock at Johnson, then began to physically fight the victim.
"C.C. stated Mr. Johnson had the upper hand in the fight, and the white male called out for the Hispanic male to help him," the statement says.
"The Hispanic male ran toward Mr. Johnson, and both the Hispanic male and the white male were on top of Mr. Johnson while he was on the ground. C.C. stated the white man got off Mr. Johnson, while the Hispanic male remained on top of Mr. Johnson.
"C.C. stated he then heard Mr. Johnson scream. C.C. stated the two males ran off. C.C. then saw Mr. Johnson was bleeding and called 911."
Police obtained surveillance videos from area businesses, and tracked the men to a nearby hotel, where they were seen entering a room occupied by a man who identified the two as "Chucky" and "Ramon," and said they worked at Coachman's Diner.
The Coachman Diner's manager identified the suspects as Espana and Deloza. Teens C.C. and G.G., shown a photo array, identified them as, respectively, the white and Hispanic attackers.
Deloza, who had an injury above his right eye, was taken into custody on Aug. 28. Espana was picked up the next day.
Post-Miranda, Espana told police he and Deloza had removed their bloody clothing and placed the items in two plastic grocery bags, thrown in their apartment building's dumpster, at 1099 S. West Temple. Police recovered the bags.
"Inside one bag was a pair of shoes with blood stains, jean pants with blood stains, a black and white belt, and a 'SOG' knife with blood stains on the blade and the sheath," the statement says.
"Inside the second bag were Wrangler pants with large blood stains and two socks with blood stains."
Wikipedia says SOG knives were first designed for covert Studies and Observations Group personnel during the Vietnam War.
"It was unmarked and supposedly untraceable to country of origin or manufacture in order to maintain plausible deniability of covert operators in the event of their death or capture."
In Espana's probable cause statement — which is nearly identical to his co-defendant's — he admitted to providing the knife he said Deloza requested from him.
Espana also said that just before the men left the scene, "Deloza was on top of Mr. Johnson, then got up suddenly and said 'Let's go.' Espana stated he noticed Mr. Johnson was bleeding from his face and his stomach."
Deloza, whose aliases include Sur Gang, Gerald Noguez, Ramon and Sneaks, and Espana, AKA Nicolai Espan, Chuck and Chucky, are facing identical charges:
Murder, a first-degree felony
Obstructing justice, a second-degree felony
Purchase, transfer, possession or use of a dangerous weapon by a restricted person, a class A misdemeanor
The men were restricted because of former felony convictions, both in Nevada's Eighth District Court. Deloza was convicted of grand larceny auto, Espana of attempted burglary.
An Aug. 28 autopsy on Johnson noted he had been stabbed three times: once to his left cheek, which fractured his jawbone; once to his lower left abdomen; and once to his left pelvic area, which severed his femoral artery.
Johnson's cause of death was determined to be sharp force injuries, and his manner of death was homicide.