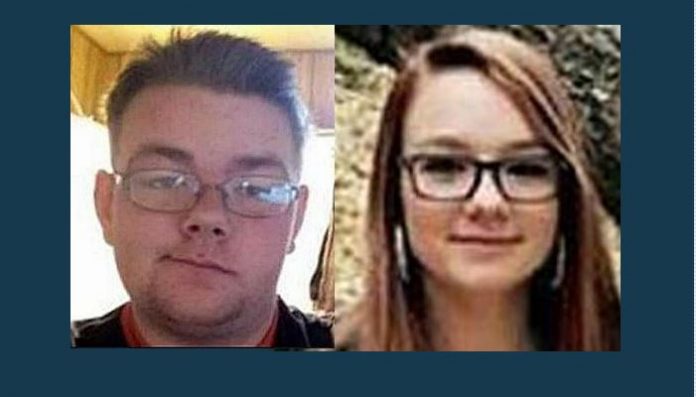 JUAB, TOOELE COUNTIES, Utah, Feb. 8, 2018 (Gephardt Daily) — New information released by the Tooele 1st District Court seems to add more pieces to a troubling puzzle involving two Juab County teens who planned a trip to Tooele County to spend New Year's Eve with family, and who have not been seen since.
Information released Wednesday reveals more search warrant details on a suspect truck, the use of cadaver dogs, and a desperate act by a relative of a missing teen.
Those teens — 18-year-old Riley Powell and his 17-year-old girlfriend, Brelynne "Breezy" Otteson — were last known to be driving their blue Jeep from Eureka, in Juab County, with a plan to head to Lofgreen, Tooele County, where Powell's mother and grandmother live with their boyfriends.
The Jeep was found on Jan. 11 near Cherry Creek Reservoir, in Juab County, more than a week after Powell and Otteson were reported missing.
It had been hidden in a stand of trees, and had two tires flattened at that location, investigators said. It also had a short length of camouflage strapping attached at the point often used for towing.
On Monday, information from a Jan. 16 search warrant was released. The targeted location was at and near the Lofgreen residence shared by:
Mistie Carlson, Powell's mother
Lee Shepherd, the boyfriend of Carlson and the owner of a blue Chevrolet pickup truck
Linda Powell, Carlson's mother and Riley Powell's grandmother, and
William Larson, Linda Powell's boyfriend
Information made public on Monday included the facts that camouflage tie-down strapping found on Shepherd's truck matched the design of a strap found on the missing couple's Jeep.
The affidavit released Monday also revealed that a witness had reported seeing a truck that looked similar to Shepherd's, including a distinctive decal, as it towed a blue Jeep.
The Monday report said cadaver dogs had been taken to the Lofgreen location to search for evidence of blood or bodies, and that containers large enough to hold bodies were on the intended search list.
Also found was a receipt dated Dec. 28 of last year from a store in Eureka, suggesting that someone had completed a trip from Eureka to Lofgreen.
The affidavit also stated that witnesses gave different accounts of where the residents had been on the final days of the year, and stated that Shepherd had been the only one of the four to decline law enforcement's request for an interview.
Information released Wednesday shared more about the cadaver dogs' findings:
"We had the Rocky Mountain Rescue cadaver dogs help search the residence. According to their report, the dogs showed a lot of interest in Lee's truck that was seen towing Riley's Jeep, but were unable to pinpoint where the odor was coming from. We then impounded Lee's Blue Chevy as evidence."
On Jan. 18, detectives were informed by West Wendover police that Carlson had attempted suicide and had been taken to the University of Utah Hospital.
"They stated that Lee had refused to give them any identification," the statement said. "They spoke to Linda, who stated that Lee had been acting weird ever since law enforcement impounded his vehicle."
In additional documents released, investigators requested 79 days' worth of records to document the use of phones used by the missing teens and by Carlson. Investigators hope the records will help document any illegal activities in the case.
Records from search engines and social media accounts also were requested.