New Evidence Fuels Search For Clearfield Serial Rapist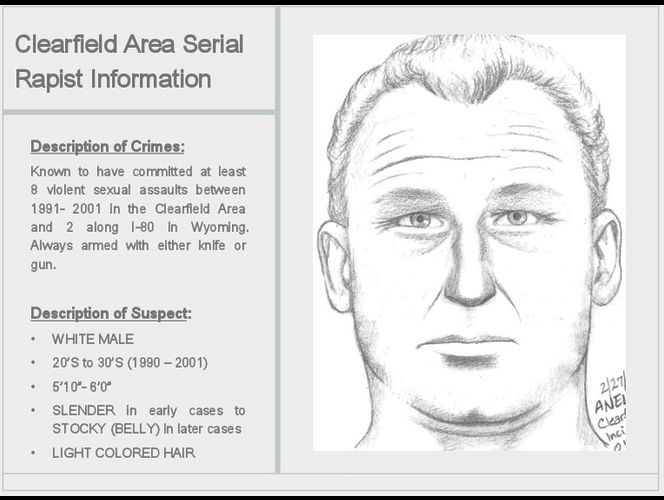 CLEARFIELD, UTAH – June 15, 2015 (Gephardt Daily) – The Clearfield Police Department, prompted by newly confirmed DNA evidence, joined several other police agencies Monday in releasing a sketch of a suspected serial rapist they say attacked at least eight women in the Davis County community between 1991 and 2001.
They believe the same man sexually assaulted two other women along Wyoming's I-80 corridor during the same time frame.
Police describe the suspect as a white male, 20 to 30-years-old at the time of the attacks. They say he was between 5'10" and 6′ tall, with light colored hair, although his physical appearance evolved through the years ranging from slender to stocky as he grew older.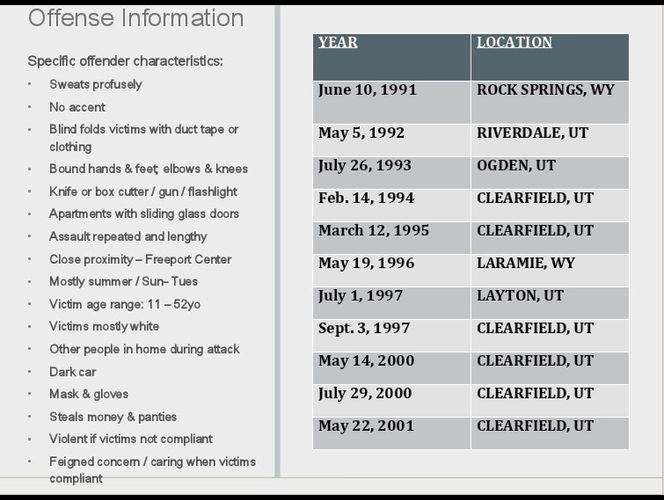 Investigators say the suspect was extremely threatening during the assaults, wielding a gun, knife or box cutter, before blindfolding and binding his victims' hands and feet with duct tape or articles of clothing. They say he also sweated profusely.
The first attack took place in Rock Springs Wyoming in 1991. The last was in Clearfield in 2001.
Through the years his victims have ranged in age from 11 to 52 years old, most of the victims were assaulted while others were present in other parts of the same residences.
Detectives say the suspect drove a two-door Pontiac Firebird with a dark interior. The say the car had bucket seats covered with sheepskin.
Police believe it's quite possible the suspect has moved from the area or is perhaps dead, but felt the need to keep the case in the public spotlight in an effort to solve the case.
A task force of local law enforcement agencies from Clearfield, Riverdale, Layton, and Laramie, Wyoming took part in releasing the new suspect information.