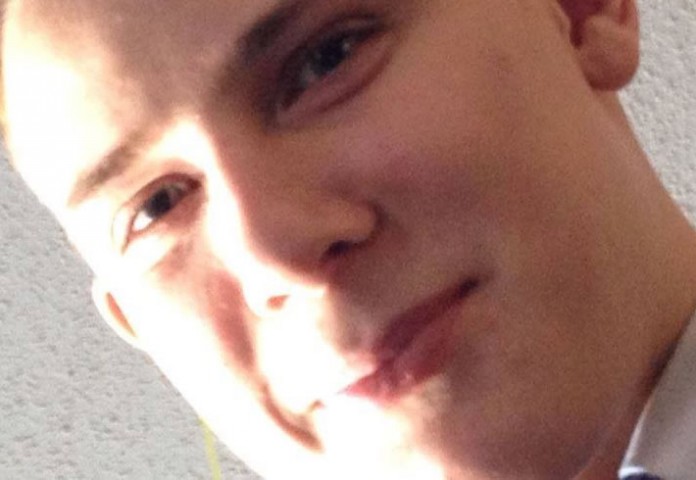 ST. GEORGE, Utah, Jan. 20, 2016 (Gephardt Daily) — St. George teenager Macin Smith has been missing for almost 20 weeks, but his parents remain resolute: They will solve the mystery of his disappearance.
This is what we know: The 17-year-old walked away from his home Sept. 1 when his parents thought he was on his way to school. He left behind his cell phone, wallet and laptop. He did leave a note, which his parents discovered a week later, but its contents have never been made public.
Macin has not been heard from since. Early indications were that he might have headed to Las Vegas, but there have been no confirmed sightings. Extensive searches by professional organizations have turned up nothing, and a $1,000 reward offered for credible information remains unclaimed.
Those in the know say it's rather like Macin simply disappeared into thin air.
His mother Tracey Bratt-Smith has posted Facebook updates in tribute to her son almost every day to the 14,561 members of the Help Find Macin Smith page.
And now she is addressing the concept that Macin may be actually waiting until he turns 18 to get back in touch with his family.
Her post from Martin Luther King Jr. Day, Monday, reads in part:
18 January 2016 (MLK Day)
Dear Macin's Army:
I'm sitting here on the eve of the 20th week since my son walked off and hasn't been seen since. No viable sightings anyway. I'm taking comfort in the fact that 90 percent of runaways seem to find their way back under six months. Statistically that's not bad odds. I'm praying Macin is in the 90 percent category. I'm still trying to understand why it's taken my boy so long to contact our family. It seems absolutely unfathomable that even with the teenage brain, Macin could possibly be staying away on purpose. May the answers come soon.
The other deadline that is in my mind is his 18th birthday which will be on April 7. Some speculate he may be waiting until he's of age. We, as his parents, are more than willing to give Macin his autonomy/freedom prior to his birthday. We only need to know that he is safe. I REALLY hope I'm not having to live without his presence in my life too much longer. This new "normal" pretty much sucks.
The following day, Tracey posted on the subject that her happiest days have been the births of her six children. This post reads, in part:
Meeting these new people for the first time was the most exciting, wonderful, magical thing I can think of. I LOVE the process of creation and going through any pain or sacrifice to get them here. That's when it hit me. My happiest days were the most painful too.
To honor my 6th, my youngest yet my biggest child, I thought I would share 17 things about him that you may or may not know dependent on how many of my posts you have read.
1. Born in American Fork Utah
2. Named before he was even conceived but we messed around with the spelling because we are weird that way. Name inspired from the movie "Batteries Not Included."
3. Had to convince his dad to use his name as his middle name believing Macin indeed would be our last child.
4. Most agreeable baby
5. Macin was the only momma's boy. The other children adored their dad first and foremost.
6. Macin's first word was momma.
7. Walked at 9 months and was ahead physically for those crucial milestones; enabling him to get into absolutely everything.
8. Macin had childhood aphasia and was difficult to understand until approximately 4. Made him a target at school.
9. Happy kid who couldn't wait to take the bus. Loved riding that bus.
10. Vivid imagination. "Sword" fighting on the trampoline for hours and created his own alter ego "Big Guy Macin." He even had a cape. It was made out of a plastic garbage bag but hey, that didn't matter to him.
11. He was not artistically inclined. Tried sports. Basketball and Football. Didn't have positive experiences with these team sports until Canada. 9th grade he enjoyed both very much. I thank the coaches for that.
12. Macin's been to three different countries. Lived in both the States and Canada and in 2014 I took him to Mexico.
13. He wanted to date so bad but when it came down to it, he never did ask anyone out.
14. Loved music more than anything. Took voice lessons up until March 2015. He wanted to be the next Breaking Benjamin. We bought him both a keyboard and guitar so he could live that dream.
15. Sang in the choir and loved the girl to guy ratio there.
16. Favorite thing to eat; McDonalds 5 McChickens everytime we went for fast food.
17. Favorite bands are Breaking Benjamin, Cold, Skillet, Avenge Sevenfold, Adelitas Way, Thousand Foot Crutch, Red, FFDP, Three Days Grace, 12 Stones, Seether and the list goes on.
That was easy to just roll off the top of my head. I could talk about him for as long as you have time. The greatest joy has come through the greatest pain. I need to remember that more often. The joy will come again. It's just around that next bend. In the meantime, I will be content to know I have my phenomenal children and man who loves me. I have angels surrounding me and my son. We have an army. Keep spreading the word. This mystery will get solved.
Love,
The Momma
P.S. I love this picture because the light is shining on half his face and he has a subtle smile. I think this picture depicts well his on going battle that he felt on the inside.
Bratt-Smith's statements follow the release of a new flier, by Red Rock Search and Rescue (RRSAR) in Las Vegas, showing what Macin might look like after a few months living on his own.
Macin is 6-feet-4-inches and 200 pounds. He has light blue eyes, and he had short blond hair when he went missing.
The Smith family moved to St. George from Canada in 2015, and Macin had been their last child living at home.
Anyone with information on Macin should contact the St. George Police Department at 435-627-4300, or David Cummings at RRSAR on 702-787-4068.
Click here to watch the first or second part of our exclusive interview with Macin's parents, Tracey and Darrin.