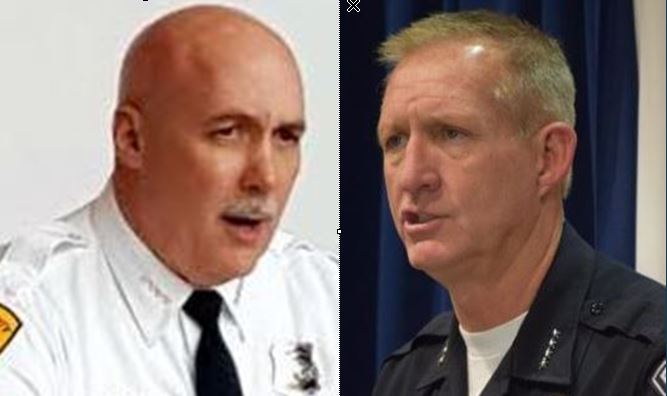 SALT LAKE CITY, Utah, July 8, 2016 (Gephardt Daily) — Salt Lake County Sheriff Jim Winder said he was shocked and disheartened as he watched live news coverage Thursday of the ambush shootings of 11 Dallas police officers, which resulted in the deaths of five.
"I was stunned as I watched what was a peaceful demonstration evolve into what can only be described as urban warfare," Winder said at a Friday morning news conference he shared with Salt Lake City Police Chief Mike Brown.
"Maybe we've hit the bottom here, people, where individuals, because of all this vitriol feel so empowered they can go to the streets of a metropolitan city during a peaceful protest and open fire on the peacekeepers," Winder said.
"I am disgusted, I am disheartened, and I am extremely, extremely sad."
Dallas investigators say the officers were shot Thursday night while assigned to a peaceful protest called in reaction to two recent fatal shootings of black men by officers in Baton Rouge and Minneapolis.
Micah Xavier Johnson, 25, of Mesquite, Texas, has been identified as the main or only shooter in the ongoing investigation in Dallas. Johnson was killed by SWAT officers after a multi-hour standoff.
Winder said he was shocked that a gunman would "… target human beings for no other reason than the clothes (uniforms) they wear."
"Thank God we live in a city and a community where we have not evolved to that place," Winder said.
"Speaking for myself personally and for my agency, we will do all we can to build and retain and remain in communication with our citizenry, but it is a two-way street. And I would ask of all of us, during this time especially, to remember that, and engage in that social contract where decency is a two-way street."
Brown said it was important to express condolences to the families of the slain Dallas officers, and also to all law enforcement officers.
"We all lost somebody," Brown said. "The fabric of law enforcement, the brotherhood sisterhood — we're all playing a price today."
Brown said he believes we have lost touch with who we are and who officers are.
"We stand here a uniforms with a badge and we look like cops, but I am telling you we are brothers, we are sisters, we are mothers, we are fathers. We cannot keep doing this. There's a better way.
"We need to come together as a community. We need to talk. We need to work on this trust issue…. It's hard to hate up close. I've said that time and time again. It"s very easy to stand afar and have bias and prejudiced and hate," Brown said.
"But when we sit down and we talk and we interact and we shake hands and we hug, that hate and that bias is gone."
"As we move forward, we can fix what happened last night in Dallas," Brown said. "We can't turn back the hands of time, but here's my call to action: We can treat each other with dignity and respect.
"If you see somebody that you can share a kind word with, do. If you see a police officer, say hi to him. If you can, give him a hug. Let's pay that respect to Dallas. They deserve it."
Asked if protest events planned for Saturday in Salt Lake City would be handled any differently in light of the Dallas attack, Brown said no.
"We will treat this as usual," he said. "I honestly think here in Salt Lake City we have work with the protesters over the years, and I think we're better here. I think we have a relationships where people can come out and express their concerns, and express their voice, in a peaceful manner.
"More importantly, I think both sides of the table have come to sit down and talk about things…. The resolution cannot be what happened in Dallas last night."
Brown said he has had regular contact with event organizers about their concerns since the Feb. 27 shooting of unarmed 17-year-old Abdi Mohamed in the Rio Grande area of Salt Lake City. Abdi survived. Multiple local and national groups are still calling for the release of bodycam video.
The Mohamed's shooting resulted in a short riot, and an increase in protests about nationwide police shootings of black men.