ST. GEORGE, UTAH – October 12, 2015 (Gephardt Daily) – A rescue organization that has been searching for missing St. George teenager, Macin Smith, received reports of more than 20 possible sightings after Gephardt Daily's exclusive interview with the 17-year-old's parents this past weekend.
In our interview published Sunday morning, Tracey Bratt Smith and Darrin Smith spoke candidly about subjects, including the events leading up to Macin's disappearance, the day he went missing, and how they are holding up now.
The Smith's also expressed gratitude for #macinsarmy, a group of thousands of volunteers who have helped Smith's search for their youngest son.
The family moved from Canada five months ago, and Macin is their last child living at home.
Macin was last seen in the Little Valley area of St. George on the morning of September 1 when he left for school. He left home without his wallet and cell phone and has not logged into social media since his disappearance. He did leave a note, which Darrin and Tracey also discuss in the interview.
He is 6'4″ and 200 lbs. with short blond hair and blue eyes.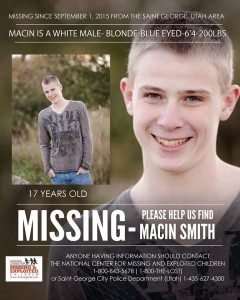 Search efforts for Macin have been extensive, with the biggest search carried out Saturday, September 26. Early indications suggested he may have headed to Las Vegas, but no leads have proved credible yet.
This last effort was orchestrated by Red Rock Search and Rescue out of Las Vegas. RRSAR brought about 40 members and five dogs, and about 80 people total carried out the search. The local St. George Search and Rescue team had 52 person equestrian teams joining Dan Southwell, the RRSAR equestrian captain.
Dave Cummings, commander of RRSAR, said they won't quit until Macin is located. After the interview was published, RRSAR received more than 20 phone calls with leads and possible sightings, but so far nothing has proved credible.
"We received numerous emails and phone calls, and this is a unique investigation in that it has gone national," Cummings said. "We have received calls from locations, including Washington State and California. In fact, police in California even checked out a house over the weekend, but the lead did not prove credible.
"It's like he disappeared off the face of the planet. The searches are continuing, but not being announced. We are going forward with more anonymous searches at this point."
He said usually in similar cases there is a sighting of the missing person. "Every sighting has been false, zero, zilch," he said. "But we will keep searching until Macin is accounted for, however long it takes."
A St. George Police Department spokesman said the case is still active, an investigation is ongoing, and they are doing what they can.
A GoFundMe account has been set up for Macin. Click here for more information. For more about the search efforts, search #macinsarmy or the Macin Smith Facebook page.
Anyone with more information should contact the St. George Police Department at 435.627.4300, or Dave Cummings at RRSAR on 702.787.4068.