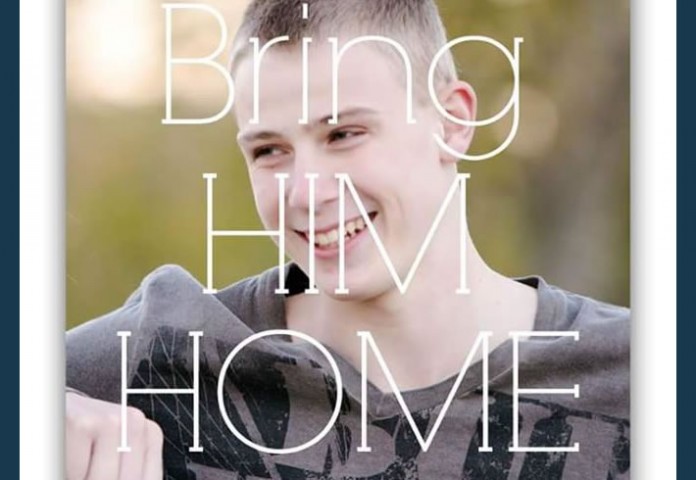 ST. GEORGE, UTAH – November 10, 2015 (Gephardt Daily) – St. George teenager Macin Smith has been missing ten weeks Tuesday, and his family and friends are initiating a social media blast in an attempt to bring him home.
The 17-year-old walked away from his family's St. George home in early September and has not been heard from since.
Officials are flummoxed, and said it's as if Macin has simply vanished. 

The Facebook post on the invitation Macin's Posting Marathon said: "It's time we get the whole world involved. One of the best ways to get the word out in today's tech world is to do a social media event. Our hope is to have Macin's story one of the top trending stories. How can you help you ask? This is how it works.
Macin's Army and any new recruits will:
(1) Write a post or share a post/picture related to Macin
(2) Make sure you hashtag #macinsarmy #bringmacinhome
(3) Continue to post/hashtag/share all day long
"If we have 10,000 people being proactive with this process simultaneously and continue to have their friends and associates do the same, recognition will happen at a macro level."
The Help Find Macin Smith page on Facebook currently has 11,865 members.
Macin's mom, Tracey Bratt Smith, posted to the page about the media blast: "Let's light up the internet world with this cute boy's face and bring awareness to his disappearance.

"There is so much for this beautiful teen to look forward to and participate in, if he chooses. And it's okay, if Macin is in a different place and does not want to return. Seriously, just give anyone a sign. A sign that can be passed on to me. Proof that Macin is living."
Speaking exclusively to Gephardt Daily, Smith said she feels a mix of optimism and sadness as the search for her son stretches into its third month. "It absolutely brings me renewed hope to know that I am not alone in the search for Macin," she said.
"I know that someone out there knows where Macin is and the more the public is aware that my son is loved, cherished and missed beyond words, the more likely he will be found. I do at times feel discouraged. After all it's been 10 weeks with no word or sign from Macin. And sometimes I do go to that negative place of 'what ifs.'
"But I do not stay there for long as it's not conducive to bringing Macin home. I could have never predicted that my son would be missing for so long. He enjoyed very much the comforts of home and his routine. I also could have never predicted that my family would have to endure such a loss for this duration. I guess we are stronger than we think."
Macin was last seen in the Little Valley area of St. George on the morning of Sept. 1 when he left for school. He left home without his wallet and cell phone and has not logged into social media since his disappearance. He did leave a note, but its contents have not been publicly disclosed.
The Smith family moved to St. George from Canada six months ago, and Macin is their last child living at home.
Macin is 6'4″ and 200 lbs. with short blond hair and blue eyes.

A $1,000 reward for information leading to Macin's safe return was posted by the Las Vegas-based Red Rock Search and Rescue Team last month. The group has been instrumental in organizing search efforts, and organized a search with RRSAR teams and dogs in late October. Early indications suggested Macin may have headed to Las Vegas, but no leads have proved credible yet.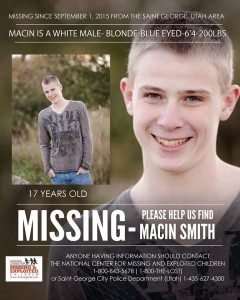 David Cummings, commander of RRSAR, said there have been no new leads. "He's done the greatest disappearing act I've ever seen," Cummings said.  "We will keep searching until Macin is accounted for, however long it takes."
The group is currently conducting searches that are not being publicized.
A St. George Police Department spokesman said the case is still active, an investigation is ongoing, and they are doing what they can.
A GoFundMe account has been set up for Macin. Click here for more information. For more about the search efforts, search #macinsarmy or the Macin Smith Facebook page.
Anyone with more information should contact the St. George Police Department at 435-627-4300, or Dave Cummings at RRSAR on 702-787-4068.
Click here to watch the first or second part of our exclusive interview with Macin's parents, Tracey and Darrin Smith. Or click to visit the Bring Macin Home page on Gephardt Daily, which contains all our articles since the teenager went missing.