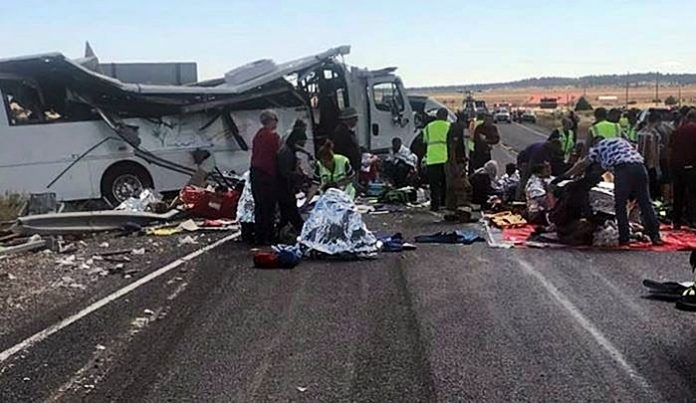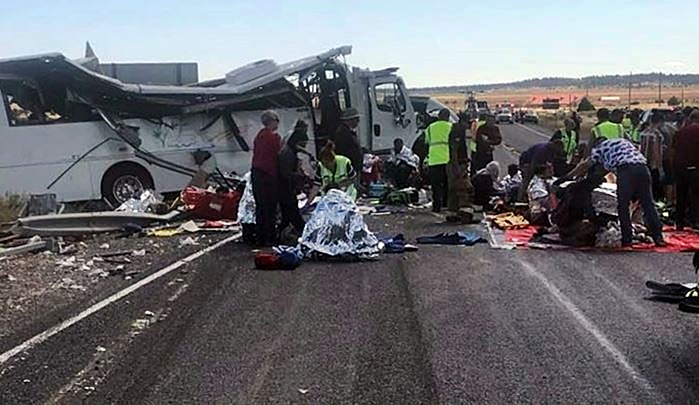 GARFIELD COUNTY, Utah, Sept. 22, 2019 (Gephardt Daily) — The driver at the wheel when a tour bus crashed, killing four and critically injuring many others, was on his first trip for the motorcar company that hired him, it was revealed Sunday.
Pete Kotowski, investigator in charge of the incident for the National Transportation Safety Board (NTSB), gave an initial report on the case early Sunday evening.
Kotowski said 10 NTSB investigators arrived in Garfield County on Saturday and were briefed by officers from the Utah Highway Patrol.
Most remained Sunday, documenting the scene or interviewing some of the 26 surviving passengers, a dozen of whom had been released from area hospitals at last report. All passengers were natives of Shanghai, China, according to an earlier UHP report.
Two investigators left Sunday to interview company officials, and an appointment is set for Monday, Kotowski said.
Investigators also intend to interview the Chinese American driver, who returned to his home, in California, Kotowski said. The driver interview was still pending as of 5 p.m. Sunday. He did cooperate with UHP before leaving the state, Kotowski noted, and gave a blood sample officials will test for any evidence of impairment.
"We know it's a carrier that has been in operation a short period of time," Kotowski said of the bus company. "We will look at their operating authority, their inspection history and their enforcement history."
Also reviewed will be the origin of the trip and its itinerary details, Kotowski said.
"We do know that this driver was recently hired and this was his first trip," he said. "We are still in the process of gathering additional information about the driver, and one of the areas we will look at with the motor carrier is that company's hiring practices."
The driver's background will also be investigated, as will his licensing qualifications and medical history, Kotowski said. The "crashworthiness" of the bus, a 2017 mid-sized Freightliner, also will be analyzed.
The NTSB will issue a preliminary report in a few weeks, before leaving the scene, Kotowski said.
"Our process is thorough but lengthy," he said. "We expect to complete this investigation in about 12 to 24 months."
The accident
Utah Highway Patrol on Saturday identified the deceased as three women: Ling Geng, age 68; Xiuyun Chen, age 67; Zhang Caiyu, age 62; and a man, ZhongLiang Qiu, age 65.
Of those who remained hospitalized, five were in critical condition as of late Saturday morning, and seven were listed in serious condition.
It was 11:36 a.m. Friday when the bus crashed on State Route 12 about seven miles west of the Bryce Canyon National Park entrance gate.
Garfield County Sheriff Danny Perkins spoke to reporters at the scene.
"It appears like he drifted to the left-hand side of the road, possibly overcorrected, something happened," Perkins said of the driver.
"The bus flipped over, overturned, the bus ended up rolling, and it rolled actually into a guard rail," Perkins said. The middle of the bus caught the brunt of the impact and was crushed inward.
Perkins said that initially, a language barrier hampered efforts to communicate with the Chinese patients. But a firefighter who responded spoke fluent Chinese, Perkins said, and people from Ruby's Inn, which is nearby and has an international emphasis, also were able to assist on the scene.
Three helicopters transported some victims, and others were taken to area hospitals by ground ambulances.
The U.S. Chinese Embassy tweeted late Friday afternoon regarding the accident.
"We are saddened to hear about the accident in Utah involving a bus carrying Chinese tourists. We are thankful to authorities in Utah for their assistance. The Embassy has initiated its emergency protocols, sent personnel to the area, and will assist the victims as needed.