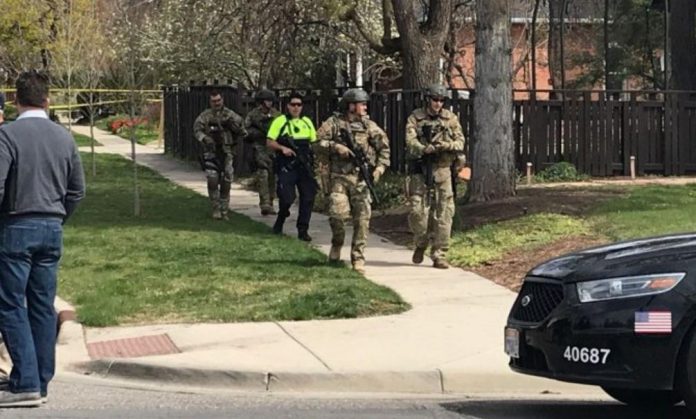 SALT LAKE CITY, Utah, April 18, 2018 (Gephardt Daily) — The man shot and very critically injured Wednesday afternoon by one or more Salt Lake City police officers has died.
SLCPD officials released the status update and the victim's name at 8:15 p.m. Wednesday.
He was 32-year-old Delorean Pikyavit.
Pikyavit was shot and very critically injured after a multi-hour SWAT incident that followed an initial call of domestic abuse, police said earlier.
Salt Lake City Police Department Sgt. Brandon Shearer told reporters earlier that a call came to dispatch at approximately 12:15 p.m. reporting a domestic violence situation in the area of 1100 East and Princeton Avenue (1100 South). It was not yet clear who made that call, Shearer said.
Officers arrived and approached the male outside the home, and he retreated into the residence, Shearer said.
A shelter-in-place protocol was initiated for homes and schools in that area, and people were advised to stay inside and lock their doors.
"At that time, we treated it as a barricaded subject, possibly with a hostage, because we didn't know if anyone else was in the home," Shearer said.
"Our SWAT team, as well as negotiators, were called out to the scene. We attempted contact for over an hour. At some point, after over an hour of trying to talk with the man, he came out of the home and approached the officers."
Pikyavit's actions caused the officers to respond, Shearer said, and they fired on him. Shearer indicated he could not say anything further about exactly what the suspect's actions were, because that will be part of the Officer Involved Critical Incident (OICI) investigation.
Shearer said officers also tried using less lethal tools to take the suspect into custody.
All the officers involved in the incident were wearing body cameras, he said, and that footage will be turned over to West Valley City Police Department, which will be investigating the incident in accordance with OICI protocol.
Shearer said on Wednesday evening that the woman who was reportedly injured earlier, inspiring the abuse call, was Pikyavit's domestic partner, although he did not have any further information on the nature of their relationship.
Gephardt Daily will have more on this developing story as information becomes available.