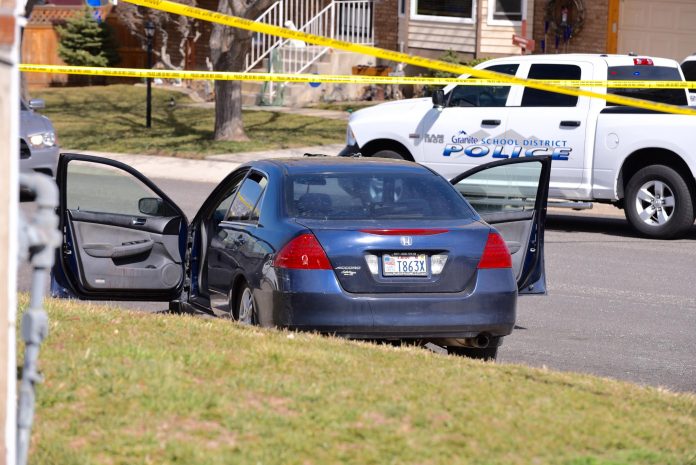 WEST VALLEY CITY, Utah, March 20, 2018 (Gephardt Daily) — Authorities responded to a shooting involving a Granite School District police officer Tuesday afternoon.
The shooting occurred in the area of Hunter Ridge Park at 4400 S. 5700 West, West Valley City Police Department said in a tweet at 1:15 p.m. The incident occurred near Hunter High School at 4200 S. 5600 West and Hillside Elementary at 4283 S. 6000 West.
Granite School District spokesman Ben Horsley told Gephardt Daily the incident was called in to dispatch at approximately 12:48 p.m. A Granite School District police officer was on patrol about half a mile south of Hunter High School when he noticed a vehicle with five male student-age occupants inside, that looked to be between the ages of 16 and 18.
"He approached the vehicle and that vehicle was parked just to the west of Hunter Ridge Park," Horsley said. "He came across the road to the vehicle and he could smell marijuana at that point in time and radioed in that he was on a potential drug call. At that point in time the vehicle lurched at him and at some point in time he was on the hood of that vehicle, was thrown from that vehicle, the officer was able to fire his weapon and injure the driver of that vehicle."
It's not known how many shots were fired, or at exactly what point the officer discharged his weapon.
The vehicle then continued down the road about 100 yards before it veered off to the side of the road and the other four suspects fled the scene on foot.
The driver of the vehicle is in Delta minus condition, with life-threatening injuries, and was transported to Intermountain Medical Center in Murray.
The police officer was transported to an area hospital with a head injury and a "lot of lacerations" from being struck by the vehicle. His injuries are not considered life-threatening, Horsley said.
He said the other four suspects are not thought to be armed or a risk to surrounding schools or homes and that is why a shelter-in-place protocol did not go into effect.
Three of the four suspects have been located and questioned, a school district spokesman said Wednesday. A fourth individual, described as an adult male, is still outstanding as of Wednesday afternoon.
Horsley said the school district officers have areas near the schools they patrol, which is why he was in that area.
He added that he, Horsley, has been with the district for nine years and in that time has not known of an officer-involved shooting.
Salt Lake City Police Department will be investigating the incident as required by protocol.
Gephardt Daily has a crew on the scene and will update this developing story as information is made available.