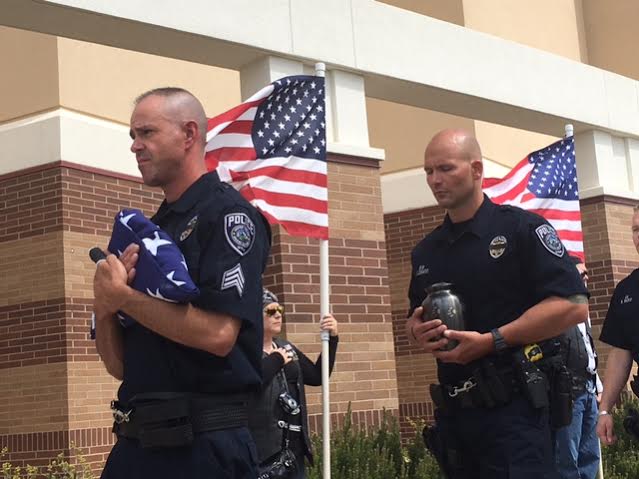 HERRIMAN, Utah, May 15, 2016 (Gephardt Daily) — Unified K-9 Aldo, shot and killed in the line of duty in April, was honored at a memorial service at Herriman High School Saturday afternoon for his dedication, sacrifice and years of service.
Aldo, a seven-year-old tan-colored purebred Belgian Malinois from Holland, had been a member of the Unified Police Department for five years.
Salt Lake County Sheriff Jim Winder said they wanted to pay an appropriate tribute to Aldo, a dog known for his outstanding ability to do his job.
"K-9 officers from around the region, other law enforcement agencies, as well about 800-1,000 members of our community have come to pay their respects," Winder said. "His handler and partner, Officer Luis Lovato, has been with us for many years, and Aldo is family."
Unified Police Captain Del Craig opened the services describing how Lovato and his partner, Aldo, were assisting other officers with a search warrant, something they have practiced thousands of times without incident.
"But unfortunately this one ended tragically," Craig said. "Officer Lovato and other officers shielded and coddled him until he could be brought to safety but unfortunately there was nothing anyone could do to save him."
Lieutenant Randy Thomas said Lovato's first experience with a police dog was in 2009 with Onyx, a black Labrador. Lovato was selected to train Onyx to become a bomb detector dog and once his training was done, Lovato, who had found his passion in K-9 policing, said he wanted to go from a "Chevy" to a "Ferrari" that comes with a lot of gas in the tank.
"That 'Ferrari' with a lot of gas in the tank was K-9 Aldo," Lovato said. "K-9 Aldo was a special dog—that dog, that team, who lived up to the standards of the Unified Police Department and Sheriff's Office long standing tradition of K-9 excellence."
The services concluded with a video tribute, a flag-folding ceremony, a 21-gun salute and a procession through Herriman City.
In a statement on The Friends For Unified Police K9 website, Lovato said Aldo loved being a police dog and a public servant and would work 24/7 if allowed.
"When I dress for work, he runs around the house in pure excitement and anticipation. Aldo shares my home with my two children and me. He knows when he is off-duty, acting like a normal pet," Lovato said. "He definitely changes gears when we leave for work by immediately becoming very vigilant and ready for his next opportunity to deploy. At the end of his watch he enjoys dinner and then climbs into bed for some relaxing ear scratching before retiring to his own bed for a nice snooze on his favorite pillow."
Gephardt Daily was on scene the night of April 27 just as news of Aldo's death started to spread. Sheriff Winder explained the shooting took place and Aldo was killed as officers were preparing to enter a home at 4303 South 730 East shortly after 11 p.m.
"They attempted to enter the residence searching for the individual and as they did they were met with gunfire," Winder said. "Several rounds were fired during the course of that exchange, and Aldo was killed."
Anderson, who was found with multiple gunshots hiding in a closet, died at the hospital a week after the shooting. It is not known at this time if the suspect was killed by returning gunfire or if the shot was self-inflicted.
This is the second loss for the six-member Unified Police K-9 team in six months after K-9 Capone lost his life to leukemia in October. The last Unified Police K-9 killed in the line of duty was Koda, an 18-month veteran who died on Jan. 1, 2010 after being shot by a burglary suspect.