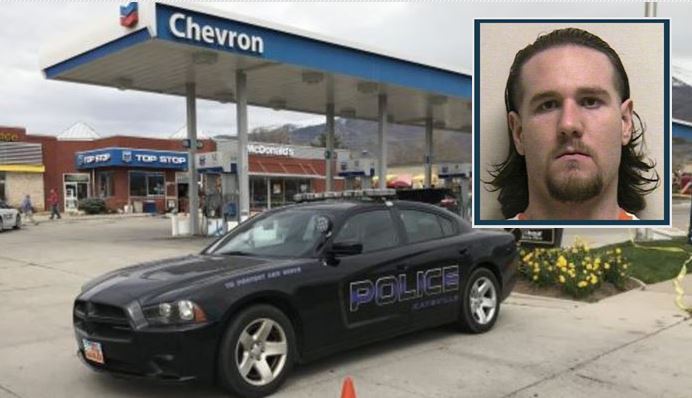 COTTONWOOD HEIGHTS, Utah, Sept. 6, 2018 (Gephardt Daily) — Officials have arrested Tyler Ivison, the man who set himself on fire in April at a gas station in Kaysville, causing injuries to several police officers whose efforts to thwart his suicide attempt left them burned.
Ivison, 27, was arrested on Wednesday in Cottonwood Heights, according to information from VFAST USMS — Utah's Violent Fugitive Apprehension Strike Force and the U.S. Marshalls' Service.
"Ivison was wanted on multiple aggravated arson and aggravated assault charges," a VFAST-USMS tweet says. "Ivison lit himself on fire a Chevron in Kaysville, Utah. @KaysvillePolice officers were injured while saving him."
Ivison's attempt to douse himself with gasoline and burn himself happened April 5 of this year at the Kaysville Chevron, near 200 South and 300 West.
Police responded at about 2 p.m., but attempts to talk Ivison out of suicide or wrestle the lighter away from him were unsuccessful.
With Ivison ablaze, officers turned their focus to putting out the fire.
Burned in the attempt, two officers were transported by medical helicopter to the University of Utah Hospital, along with the victim, Kaysville Police Chief Sol Oberg said at the time. A third officer was rushed there by ground ambulance, and one more officer was taken to North Davis Hospital to be checked out.
All four officers survived their injuries.