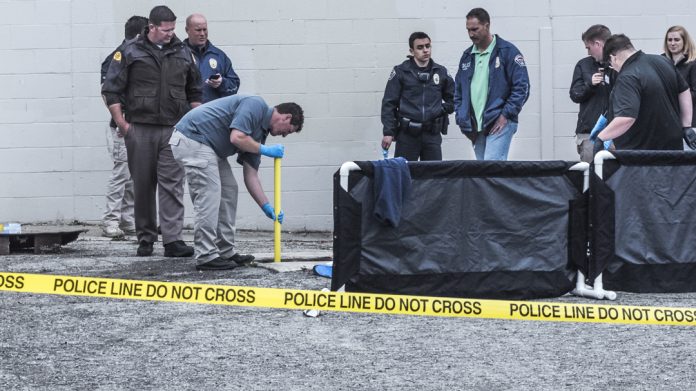 WEST VALLEY CITY, Utah, April 7, 2018 (Gephardt Daily) — The body discovered Friday in a drain overflow area outside a former Kmart is that of a female.
West Valley City Police officials announced that initial finding on Saturday, adding that any additional autopsy findings will be released next week.
Police were called to the scene of the closed store, at 4100 South and 1770 West (by Redwood Road) at 12:25 Friday after survey crews hired to inspect the site prior to new construction discovered the corpse.
A crew member lifted a metal plate that covers a drain overflow area near the parking lot, and discovered what looked like remains.
"The body was floating in approximately four feet of water, which was stagnant in the
drainage," says a statement released Saturday by the West Valley City Police Department.
"With assistance from the State Dive Team and Unified Fire, the body was removed from the drainage compartment and turned over to the State Medical Examiner's Office."
An autopsy Saturday morning confirmed the body's gender.
"There were no obvious signs of trauma noted and a confirmed identification or cause of death will not be known until next week," the statement says.
Sgt. Scott Arnold, West Valley City Police Department, told Gephardt Daily on Friday that that officers were summoned to the scene on a suspicious-circumstances call.
"The age, race and sex are unknown because a lot of the body was covered in water," he said. That also made it impossible to estimate how long the body had been there, he added.
The plate that covered the area over the body was not screwed down, and could have been lifted by anyone, Arnold said. The pipes leading to the overflow area were too small for a body to fit through.
Although Arnold did not want to speculate, he agreed that it was more likely that the body had entered through the opening that was covered by the plate.
Gephardt Daily will have more on this developing story as information becomes available.