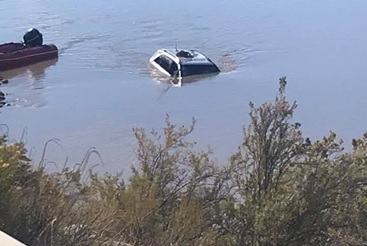 UINTAH COUNTY, Utah, Oct. 9, 2018 (Gephardt Daily) — Uintah County Sheriff's officials are investigating after a car was found "purposely launched" into the Green River south of Vernal Friday.
A news release from the Uintah County Sheriff's Office on Facebook said deputies responded to a report of a car in the Green River approximately four miles south of U.S. Route 40 on Redwash Road.
"The car appeared to have rolled off an embankment and into the river," the news release said. "Members of the Uintah County Search and Rescue dive team were called to assist deputies search for possible victims, however no one was located."
As deputies investigated the incident, it was found that no one was in the car when it went into the river.
"The vehicle had been purposely launched into the river over a 40-foot embankment in what is believed to be a staged event by the vehicle's owner," the news release said.
The owner has been cooperating with officials as the incident is investigated. Officials did not disclose the reason why the owner launched the car into the river.
Gephardt Daily will have more on this developing story as information is made available.