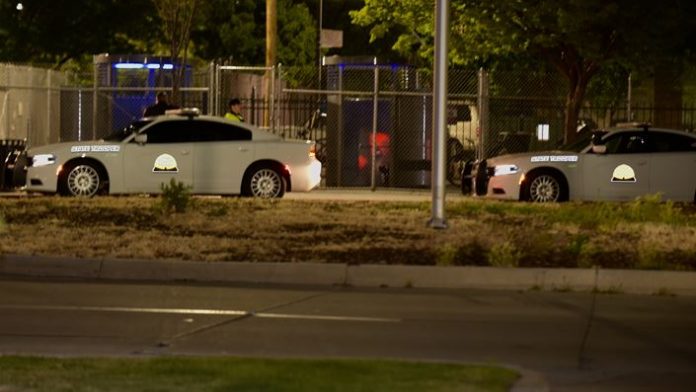 SALT LAKE CITY, Utah, June 20, 2019 (Gephardt Daily) — A man is in custody after troopers on bicycle patrol in the Rio Grande area say they discovered him slashing tires, and he fled, then he assaulted arresting officers in his attempt to escape.
The incident happened at about 9 p.m. Thursday in the area of 300 W. 500 South, near the homeless shelter.
Sgt. Joe Pearson, Utah Highway Patrol, talked to Gephardt Daily at the scene.
"There were two troopers. … They came on the area and they noticed a white male, about 40, 50 years old, who appeared to be slashing the tires of a vehicle," Pearson said.
"They contacted that gentleman. He fled on foot. He failed to stop at their commands to stop. They chased him down, were able to get ahold of his arms, get him into custody. A fight ensued and the suspect swung at officers several times."
The officers were not seriously injured, Pearson said.
"They're fine. They'll probably be a little sore tomorrow from the scuffle."
The suspect got minor injuries.
"He got some scrapes on his knees, his face and also his hands," Pearson said. "He went to the hospital, later will be booked into jail."
The suspect, whose name has not been released, will probably be charged with vandalism, failure to stop at the command of an officer, and assault at least, Pearson said.