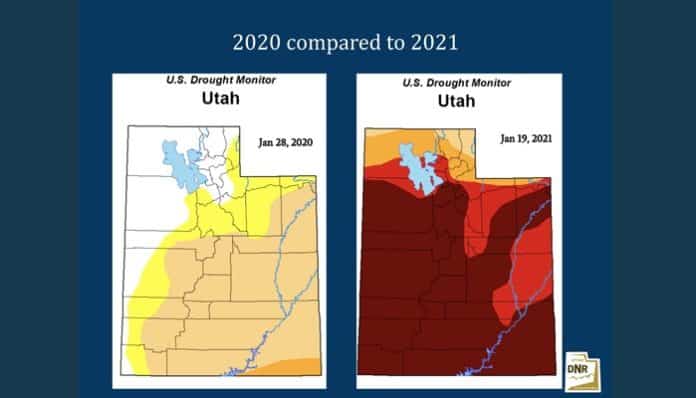 SALT LAKE CITY, Utah, Sept. 16, 2021 (Gephardt Daily) — Thirty-two of Utah's largest 42 reservoirs are below 55% of available capacity this week, compared with 31 last week.
Jordanelle Reservoir dropped this week, said a news release from Utah Department of Natural Resources. Overall statewide storage is 49% of capacity, slightly less than last week.
Conditions this year are some of the worst on record, the news release said.
"Record dry soils heading into last winter severely impacted the effectiveness of spring runoff, which soaked into the ground rather than refilled reservoirs," the news release added. "Conditions were monitored closely, and water-saving actions were taken across the state."
Water saving actions include:
Jordan Valley Water Conservancy District's water deliveries were down nearly 31% this August compared to last August.
Washington County Water Conservancy District's service area, including district and municipal supplies, saved almost 600 million gallons of water this in June, July and August compared to 2020 use, despite a 3.26% population increase.
Salt Lake City service area saved about 1.8 billion gallons since July 1, compared to the averaged water use over the same time period for 2018, 2019 and 2020.
Sandy City saved 962 million gallons over this time last year.
Applications for water-saving rebates have also seen a large uptick.
"As irrigation season winds to a close, we appreciate all who reduced their use," said Utah Department of Natural Resources Executive Director Brian Steed. "It has made a difference. With about 60% of our municipal water supply used for outdoor irrigation, cutting back saves that water for later use."
The drought impacts from the week of Sept. 13 are compiled by the Utah Divisions of Water Resources, Water Rights, State Parks, Wildlife Resources, the Department of Environmental Quality and the Department of Agriculture and Food.
At-a-glance changes for the week:
Of the 98 measured streams, 50 flowed below normal this week compared to 44 last week.
Boat ramp closures remain the same as last week, with 12 closures at 10 state parks, including Jordanelle, Antelope Island, Echo, Hyrum, Millsite, Piute, Rockport, Quail Creek, Willard Bay and Yuba. Caution advisories have been issued for seven additional state park boat ramps. View conditions here.
An Emergency Disaster Relief Loan Program was launched this week by the Utah Department of Agriculture and Food to aid farmers and ranchers who've experienced loss due to the extreme drought. This program provides loans of up to $100,000 to eligible producers to assist with financial and other losses experienced due to drought conditions such as crop loss, increased feed costs, loss of livestock, and more. More information and applications can be found here.
Waterfowl hunting season begins soon in Utah, and hunters should be aware that drought conditions have impacted some species, likely resulting in fewer birds in Utah this fall. Low water levels in some areas will also impact access to some waterfowl management areas. Visit the DWR website for more details.