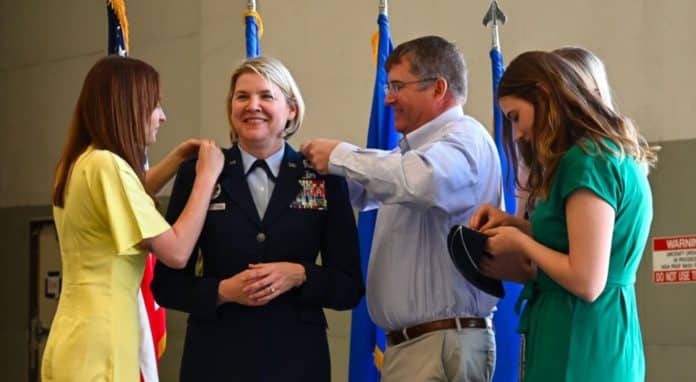 HILL AIR FORCE BASE, Utah, May 8, 2021 (Gephardt Daily) — Ogden Air Logistics Center Commander Brig. Gen. McCauley von Hoffman was promoted to major general in a May 7 ceremony at Hill Air Force Base.
The second star was pinned on by her husband Mitch and their three daughters, Candace, Victoria and Kathleen. The ceremony was presided over by retired major general Kathryn J. Johnson, former director of Logistics, Engineering and Force Protection at Headquarters Air Force Reserve Command at Robins AFB, Georgia.
"For all of you who have had a hand in getting this second star on my shoulder, I promise you that I will pay it forward," General von Hoffman said at the ceremony. "I promise I will do my very best to take care of our Air Force and our Airmen. That's all I can do other than a huge heartfelt thank you."
General von Hoffman, who hails from Mississippi, has been serving in the Air Force for nearly 32 years. She became the Ogden ALC commander in July 2019 and leads a team of more than 8,500 personnel performing depot maintenance, repair, overhaul, and modification of Air Force aircraft.
The Ogden ALC produces aerospace commodities that include electronics, avionics, instruments, power systems, and software for the assigned weapon systems, and is the landing gear center of excellence for the Air Force. Additionally, the complex oversees the national-level airpower reservoir for aircraft storage, reclamation, regeneration, and disposal at Davis-Monthan AFB, Arizona.
General von Hoffman will leave Hill Air Force Base in July to become the director of Logistics, Civil Engineering, Force Protection and Nuclear Integration at Wright-Patterson AFB, Ohio.