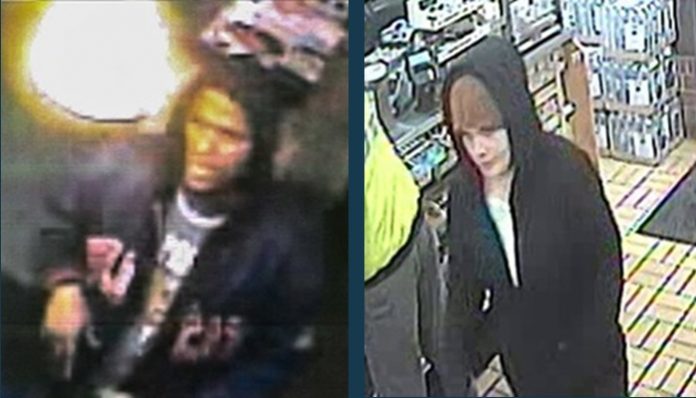 OGDEN, Utah, April 11, 2018 (Gephardt Daily) — The Ogden Police Department is searching for two suspects who allegedly stole credit cards from a vehicle then used them to go on a spending spree.
The suspects used the credit cards to purchase gas at the 7-Eleven store at 3185 Harrison Blvd., items at the Walmart Supercenter at 534 N. Harrisville Road, in Harrisville, and food from the IHOP at 189 12th St. in Ogden, the Ogden Police Department said in a news release on Facebook.
Video released by IHOP shows the male suspect is black, and wearing an Arizona Wildcats team jacket that has "Wildcats" across the chest area and the letter "A" on the bicep area of the left sleeve. He was also wearing a hood pulled over his head and red and white basketball style shoes.
The female subject is Caucasian, wearing all black with the hood of her jacket pulled over her head. She appears to be wearing a maroon or brown knit hat under the hood, and torn pants or jeans.

When the subjects left the IHOP, the female picked up a large pink backpack and a Target shopping bag, surveillance images show. 
Images from 7-Eleven show the suspects getting into what appears to be a dark green SUV-type vehicle, newer condition with five spoke aluminum rims, four doors, a wind spoiler above the rear hatch area and running boards; similar to a Chevrolet Trailblazer-type vehicle.
Anyone who recognizes these suspects or has information about the case is asked to call the OPD on 801-629-8348 and reference case 18G13720.