Freeway Back Open After Oil Tanker Accident Closes I-15 at 400 North Friday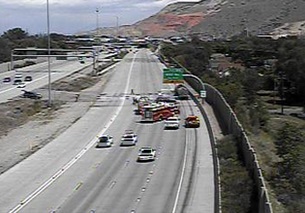 SALT LAKE CITY, UTAH (Gephadt Daily)According to UDOT spokesperson, John Gleason, as of 3:10 p.m. all lanes of I-15 northbound at 400 N are now open.
The freeway has been closed for several hours after an accident where a crude oil tanker that had literally split in two, forced officers to close all the lanes.
"We were pretty fortunate really that many people started to divert off to other streets and there was not as big of a back up as we thought," said Gleason. "As of now we have received word that all lanes are back open and safe for travel."
Gleason said the tanker had started to leak the oil around 2100 South and by the time he reached 400 North, the tanker lost it's entire load. "We have had our maintenance crews using plows to spread sand along the freeway to soak up the oil," said Gleason. Crews worked relatively quickly to get the lanes re-opened before rush hour.
During the incident officers worked to diverte traffic to I-80, I-215 and off onto 400 South.
Fire officials were also on scene as the tanker was reported to have smoke coming from it. The cause of the accident is not fully known at this time. We will provide more information as it becomes available.
There were no injuries reported.