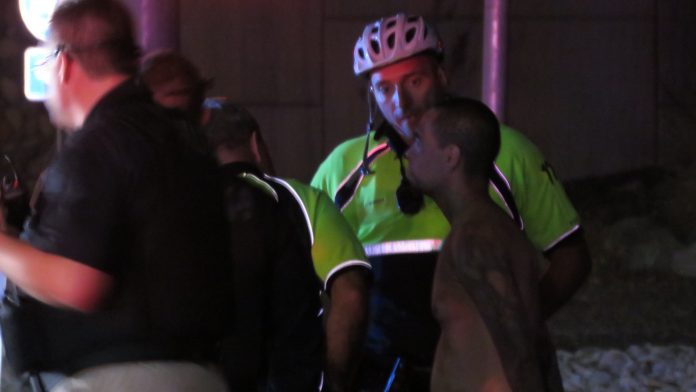 SALT LAKE CITY, Utah, Oct. 30, 2016 (Gephardt Daily) — Police went after a stolen vehicle Saturday night thinking they were pursuing a suspect in an armed home invasion robbery.
Officers from both Salt Lake City and West Valley City police departments were involved in apprehending the man who fled in the stolen car, while a ground search began for a second suspect who ran on foot, jumping through backyards in the neighborhood.
West Valley City Police Lt. Robert Hamilton said the whole episode began at about 9 p.m. when officers from West Valley City and Alcohol, Tobacco and Firearms were in the Salt Lake area on an unrelated assignment.
Hamilton said the officers heard gunshots, notified Salt Lake City police, and began checking the area. That's when they saw two "suspicious males" running and attempted to stop them.
One of the men got into a vehicle that previously had been reported stolen, and the pursuit ensued, Hamilton said. That man, Lamar Christensen, 31, was taken into custody after a chase that began at 400 East near 900 South, and wound through Salt Lake City out to Redwood Road, ending after police laid down a spike strip that had the car riding on its rims, throwing sparks everywhere.
Hamilton said the man who took off running is Marcos Sickler, 34, who is wanted in connection with a different case. Sickler had not been found Saturday night.
Hamilton said the officers initially thought a home invasion had occurred because prior to the shots being fired, the two suspects were knocking "pretty loudly" on someone's door, and the person who lives there didn't know who the suspects were.
"In the chaos of multiple agencies and multiple radio channels, trying to figure that information out, the information came out that there was possibly a home invasion robbery," Hamilton said. It turned out there was no home invasion at all.
Since the situation was clarified, Hamilton said, it doesn't appear that the suspects were involved in firing the shots; they probably heard the shots and were running from that. It still isn't known where the gunshots came from.
Hamilton didn't know if Christensen stole the car originally or if he simply found it with its engine running and decided to take it.
Investigators will discuss the case to screen possible charges.