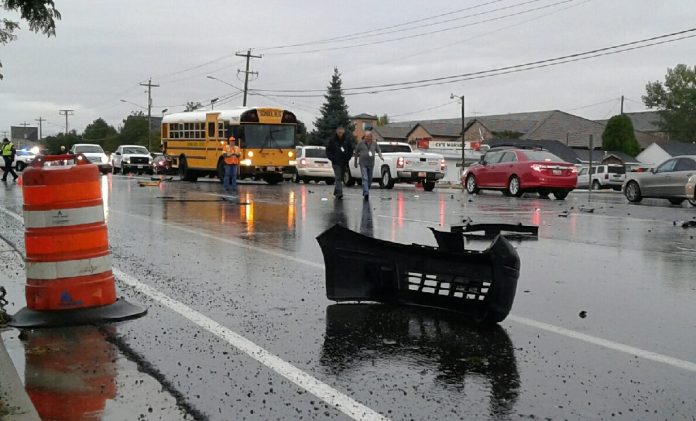 SANDY, Utah, Sept. 19, 2017 (Gephardt Daily) — One man is in serious condition after a passenger car rear-ended a Canyons School District bus in Sandy Tuesday morning.
Sandy Police Department Sgt. Jason Nielsen told Gephardt Daily the incident occurred at 8800 S. 700 East just before 8 a.m. The school bus was at a stop in the center turn lane of 700 East waiting to make a left hand turn onto 8800 South.
Nielsen said witnesses reported the driver of a black Nissan Versa going southbound on 700 East was driving erratically at a high rate of speed, weaving in and out of traffic.
"At one point, at about 8800 South, the black passenger car collided with the school bus which carried three elementary-age school students on board," Nielsen said. "The black passenger car continued about 100 yards further south on 700 East until it came to a stop after making contact with a couple of other vehicles."
The man driving the car was transported to an area hospital in serious condition; an 11-year-old male passenger was unharmed. There were no injuries to 3 children or the driver who were on board the school bus.
Drivers are being asked to avoid the area while a Crash Analysis Reconstruction Team  processes the scene.
Nielsen said police have not ruled out drugs or alcohol as contributing factors to the crash.
"Speed, erratic driving coupled with the weather conditions, the rainy weather and slick roads — it's just a recipe for disaster," he added.
Gephardt Daily will update this developing story as information becomes available.