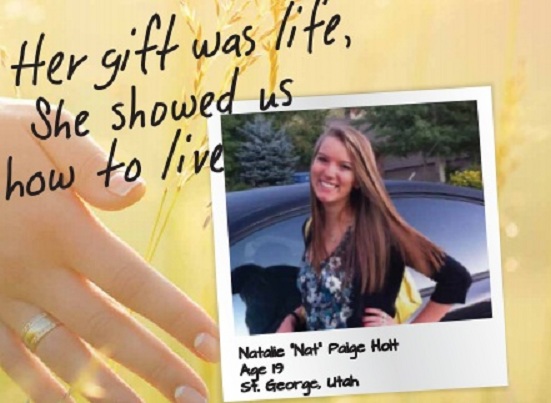 UTAH, November 19, 2015 (Gephardt Daily) ─ For families of teens killed in car accidents, the road to healing is incredibly difficult.
Some of those families are hoping by sharing stories of the lives, and especially the deaths of their loved ones, they can help prevent someone else from living the same nightmare.
In conjunction with the "Don't Drive Stupid" campaign, the Utah Department of Health joined forces with the Utah Department of Transportation and the Zero Fatalities team to let the teenagers know this could happen to them.
"We had to find a way to make these numbers real," said Jenny Johnson, Utah State Health Department spokesman. "We knew we needed a way to start saving these lives."
Johnson said organizers started the Memorial Book in 2007, when 40 teens were killed on Utah roads. "We reached out to the families of those teens and asked them if they would be willing to help," she said. "We worked with them and helped them to write their stories and the Zero Fatality team then took those stories and created the Memorial Book."
Johnson said it's hard knowing they will be reaching out to new suffering families every year.
"The stories are always sad, but we are able to bond with these families, offer grief support and way for them to heal," Johnson said. "We also gather to celebrate the lives of their loved ones during a memorial event every year."
This years campaign features 10 teens killed in 2014. Their families have shared the tragic events that lead to the deaths of their teens in hopes that others can avoid the pain of losing a loved one in a car crash.
According to the Utah State Health Department, 29 teens died on Utah roads in 2014. Almost half of those teens were not wearing a seat belt. Since the Utah graduated driver license (GDL) laws went into effect in 1999, there has been a 65 percent decrease in the rate of teens ages 15 to 17 killed in motor vehicle crashes.
The site encourages teens to learn from these stories. They want everyone to talk with loved ones, friends, classmates, and students about these tragic stories and set rules whenever driving or riding in a car.
You can read more about the lives of these teens, and those featured in prior years campaigns, by visiting the Utah State Health Department's website.