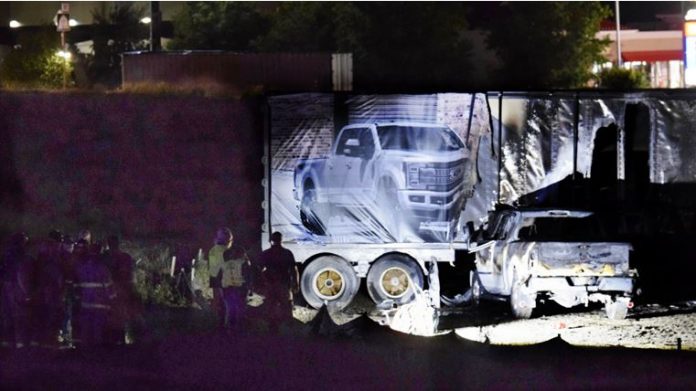 SPRINGVILLE, UTAH, June 1, 2019 (Gephardt Daily) — Utah Highway Patrol investigators say a driver was killed early Saturday morning when a vehicle veered off an Interstate 15 exit ramp and slammed into a parked semi-trailer being used as a roadside billboard.
UHP officials later identified the driver as 33-year-old Tayva A. Steele.
"Excessive speed and a possible medical condition are being looked at as possible factors in the crash," the later news release said.
UHP Sgt. Jayson McCleve told Gephardt Daily the accident happened about 1:20 a.m. when the driver of a Chevy pickup exited the highway via the Springville off-ramp at mile marker 260 and barreled through a construction site.
The vehicle ended up wedged beneath the semi-trailer, trapping Steele inside as the pickup began to burn.
Highway Patrol troopers responding to the crash site tried to rescue Steele, but were driven back by the flames.
McCleve said Steele died at the scene.
Crash investigators were combing the accident site, which McCleve described as a "long scene."
Gephardt Daily will update the story as more information is released.